Newspaper article spreads misinformation in Pakistan about Covid-19 vaccinations
As Pakistan battled a fourth coronavirus wave, a screenshot of an Urdu-language newspaper article warned about the "dangerous consequences" of Covid-19 vaccines. The article -- which was shared thousands of times on Facebook -- makes a string of misleading claims about the jabs.
The image of the unidentified newspaper was shared in an Urdu-language Facebook post on August 4, 2021.
It has been shared more than 11,000 times.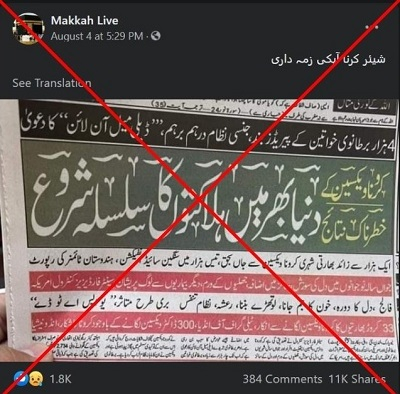 Screenshot of misleading post taken on August 30, 2021
The same newspaper clipping was shared here and here on Facebook and here and here on Twitter.
The claims made in the article, however, are misleading.
Claim: 'Periods of 4000 British women have stopped, their biological systems have been messed up'
This statistic is misleading.
It was taken from a June 21 article published by the MailOnline -- the website for Britain's Daily Mail newspaper.
It reports that although nearly 4,000 women reported period problems after receiving a Covid-19 vaccine, health authorities found no causal link.
Screenshot of Daily Mail article on purported links between Covid-19 vaccination and menstrual problems, taken on August 30, 2021
"The Medicines and Healthcare products Regulatory Agency (MHRA) said it had received 2,734 reports linked to the AstraZeneca jab up to May 17. Another 1,158 reported menstrual changes after receiving Pfizer's and a further 66 were linked to the recently deployed Moderna jab," it reads.
"But the regulator said a review into the issue concluded that the symptoms were not happening more frequently in newly vaccinated women than the general population."
The MHRA said on August 11, 2021 that it was reviewing reports of menstrual problems after Covid-19 vaccination but that "the rigorous evaluation completed to date does not support a link between changes to menstrual periods and related symptoms and COVID-19 vaccines."
Claim: 'More than 1000 Indian citizens died from Covid vaccine, 30,000 have severe side effects'
The misleading post attributes this information to Indian newspaper The Hindustan Times.
A keyword search on the newspaper's website did not find any articles with the purported statistics.
The newspaper also denied publishing such a claim.
"We have not published any such report for the simple reason that these numbers are horribly wrong – and amount to scaremongering," Sukumar Ranganathan, the newspaper's editor-in-chief, told AFP.
A health worker administers a Covid-19 vaccine in Hyderabad on June 25, 2021 ( AFP / NOAH SEELAM)
As of May 17, 2021, India's health ministry said more than 23,000 adverse events were reported -- including 700 serious cases.
"[The] reporting rate of these events in India is around 0.61/million doses", it said.
On June 16, 2021, it said that 488 post-vaccine deaths had been reported, but that just one death had so far been linked to the jab.
Claim: 'Heart inflammation, heart enlargement, membrane pain (pericarditis) in youths; other illnesses have people worried'
This claim -- which was attributed to the "Center for Disease Control America" -- lacks context.
The US Centers for Disease Control and Prevention (CDC) guidance says Covid-19 vaccines are "safe and effective".
"These vaccines have undergone and will continue to undergo the most intensive safety monitoring in U.S. history," its website says.
The CDC has reported cases of myocarditis(inflammation of the heart muscle) and pericarditis(inflammation of the membrane around the heart) in young people who received the Covid-19 vaccine.
It says, however, that such cases were rare and that no causal link with Covid-19 vaccines has been established.
The misleading claim then continues: "Paralysis, heart attacks, blood thickening, clots forming, severe shivering, respiratory systems are badly affected, USA Today".
The paralysis mentioned is most likely a reference to Bell's Palsy, a temporary facial paralysis condition.
The US Food and Drug Administration (FDA) said it "does not consider [cases of Bell's Palsy] to be more than the rate expected in the general population" and has not established a causal link to the jab.
US authorities recommended temporarily pausing the roll-out of the single-shot J&J vaccine in April, after 15 women developed serious blood clots and three died, out of 3.9 million who received the vaccine.
However the jab was resumed after "available data showed that the J&J/Janssen COVID-19 Vaccine's known and potential benefits outweigh its known and potential risks".
The AstraZeneca jab has also been linked to the rare condition, though such cases are "very rare".
Claim: '330,000,000 Indians have refused to get vaccinated'
This claim misinterprets the results of a survey on vaccine hesitancy.
The survey of more than 8,000 people across India did not say that 330 million Indians had refused the shot.
It actually found 29% of respondents said they would be willing to take the vaccine soon and 24% would take it once further data or vaccines were available.
The report was published by Local Circles, a community social media platform based in India.
A medical worker prepares to administer a Covid-19 vaccine dos in New Delhi on February 22, 2021 ( AFP / SAJJAD HUSSAIN)
In the misleading posts, the survey's findings have been applied to the estimated unvaccinated population of 700 million people.
Claim: '300 doctors got corona despite being vaccinated, Indonesia'
The claim that 300 doctors in Indonesia became infected with Covid-19 despite being vaccinated against the disease is accurate.
On June 17, 2021, Reuters news agency reported that more than 350 doctors and medical workers caught Covid-19 despite being vaccinated with the Sinovac jab.
Health authorities said it was anticipated that a small percentage of the vaccinated would still contract the disease.
AFP Fact Check has previously debunked a series of inaccurate claims about vaccines.