These images show a photographer crying after Iraq crashed out of the 2019 Asian Cup
After a tearful Lionel Messi confirmed he was leaving Barcelona after 21 years with the club, Facebook posts shared a picture of a photographer who they claim broke down in tears upon hearing the news. The claim is false; the pictures actually show Iraqi photographer Mohammed Al-Azzawi shedding tears after Iraq lost to Qatar in the 2019 Asian Cup.
"This Spanish journalist couldn't control himself after seeing Messi break down in tears in his press conference," reads a Bengali-language Facebook post from August 8, 2021.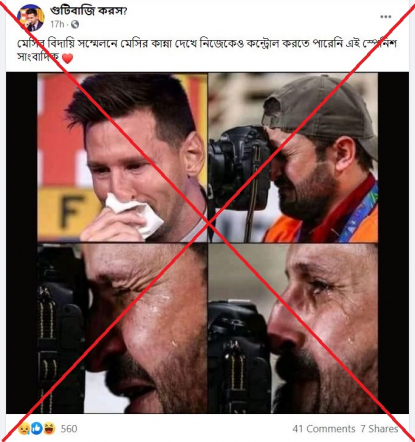 Screenshot of a Facebook post sharing the false claim, taken on August 9, 2021
The Argentinian superstar fought back tears as he confirmed he was leaving Barcelona, where he has played his entire career. 
The 34-year-old player, six times a Ballon d'Or winner, has been out of contract since the end of June and Barca say they cannot afford to keep him, with Messi admitting that a move to Paris Saint-Germain is a "possibility".
Similar Facebook posts were shared around the world, including in Thailand, Nigeria and Zimbabwe.
However, the claim is false. The pictures of the photographer crying were not taken at Messi's press conference on August 8, but after Iraq lost to Qatar in the 2019 Asian Cup.
First image
A Google reverse image search found the first photo of the photographer published here on the official Facebook page of the AFC Asian Cup on January 24, 2019.
The photo was also tweeted here on the Asian Cup's official account on the same day alongside text reading "AFC Asian Cup UAE 2019" and "#ASIANCUP2019". The tweet's caption states: "Passionate. Emotional moment for an Iraqi photographer during the Round of 16 clash against Qatar! #AsianCup2019."
Qatar knocked out Iraq in a 1-0 win on January 22, 2019 that took them to the quarters.
Below is a screenshot comparison between the photo in the misleading Facebook post (L) and the photo by Asian Cup's official account (R):
Second and third image
Reverse image search and keyword searches found the other two photos showing the same photographer with a tear rolling down his cheek published in a January 23, 2019 report about Iraq's loss in the 2019 Asian Cup here by Chinese news website Sina Sports, with photo credit to Osports Photo Agency
The second photo was also published on Osports' official account on Chinese social network Weibo here on January 23, 2019.
The post's Chinese-language caption reads in part: "#2019 Asian Cup. The tearful Iraqi photographer made people feel very emotional. Football can really make you cry! Well done our photographer Shui Ge!"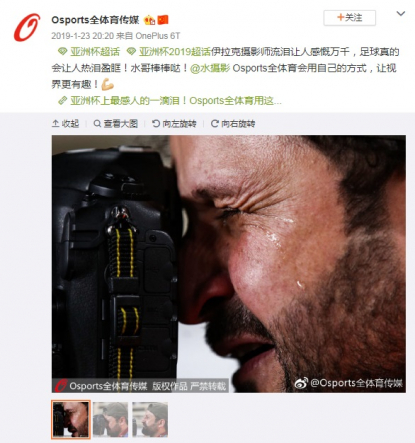 A screenshot of Osports' original Weibo post.
Below is a screenshot comparison between the other two photos in the misleading Facebook posts (L) and the original Osports photos published by Sina Sports (R):

AFP ran a reverse image search on the photograph and found reports naming the man in the picture as Iraqi photographer Mohammed Al-Azzawi. 
In an interview with Iraqi broadcaster Al-Iraqiya in February 2019, Al-Azzawi said he became emotional the moment he knew Iraq had lost the game.
In the full video of Messi's press conference posted on FC Barcelona's website, no journalists or photographers were filmed crying. 
The photo of Al-Azzawi weeping has previously circulated in a misleading context. In May 2021, AFP debunked posts claiming it showed a photographer crying while capturing violence during Israeli-Palestinian conflict.
August 10, 2021 This article was updated on August 10, 2021 to specify that a broadcast of Messi's press conference showed no photographers or journalists crying.