Old photo shows statue of South Africa's president, not Kenya's
Multiple posts on Twitter and Facebook in Kenya have shared a photo of a sculpture alongside a claim that it shows a statue of Kenya's president, Uhuru Kenyatta, being unveiled in Limpopo province in South Africa. The claim, however, is false. The photo, which has been online since at least 2019, shows a sculpture of South African president Cyril Ramaphosa.
The photo was published on Twitter on June 28, 2021, and has since been shared nearly 320 times.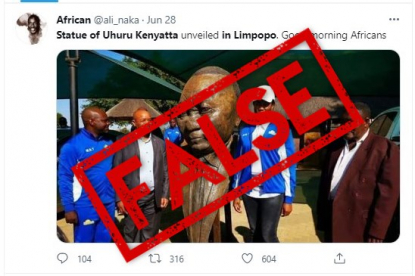 Screenshot of the post, taken on August 6, 2021
The tweet's caption reads: "Statue of Uhuru Kenyatta unveiled in Limpopo. Good morning Africans".
The claim was also posted on Facebook here, here, and here.
Kenyatta is the fourth and current president of Kenya. He has been in office since April 2013 and is currently serving his second and final term.
But the photo does not show a statue of the president of Kenya.
Statue of Cyril Ramaphosa
By conducting a reverse image search, AFP Fact Check found this picture in two articles by South African local news publications (here and here). The photo has been online since at least June 2019 and shows a sculpture of South African President Cyril Ramaphosa.
An article published online by  the South African in 2019 reports that the sculpture is not new. The article quotes Thandi Moraka, the Limpopo provincial minister for Sports, Arts, and Culture, saying that the sculpture was created in 2018.
Ramaphosa is the current president of South Africa, a position he has held since February 15, 2020.