Falsified tweets in Zambian opposition leader's name shared ahead of elections
Screenshots of two different tweets purportedly sent by Zambian opposition leader Hakainde Hichilema have been circulating on social media ahead of the national elections on August 12. The attributions to Hichilema are false; the original tweets were lifted from Hichilema's Twitter timeline and digitally altered.  
The screenshots have been shared multiple times on Facebook (here and here) since July 31, 2021.
"Deaths in Kanyama are regrettable but our cadres are just revenging. We will defend ourselves and we will retaliate! (sic)" reads the screenshot of one tweet purportedly written by Hichilema.
A screenshot of a false Facebook post, taken on August 5, 2021
"My early association with satanism lost me children. I thank God I found the light. Watch below my interview," reads another screenshot of a tweet, also allegedly by Hichilema.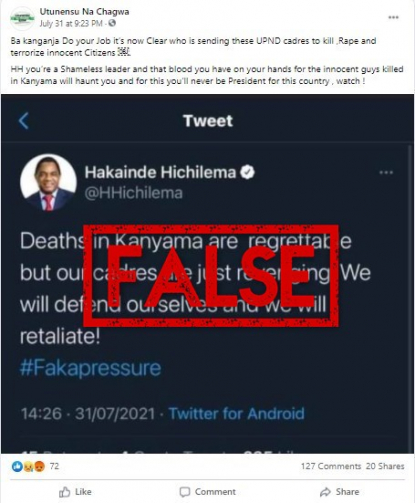 A screenshot of a false Facebook post, taken on August 5, 2021
Altered tweets
AFP Fact Check could not find the two tweets on Hichilema's Twitter timeline, nor any reference to them in the media.
On closer inspection, we established that they were fabricated using genuine tweets from his verified Twitter account and by altering the code to temporarily display different content. 
Thereafter, they were captured and published as screenshots — including replies to the original tweet — to give them an authentic look and feel.
The modified tweet referring to the deaths in Kanyama originally read: "We will negotiate the Zambian debt with calm and composure until we succeed." It was published on July 31, 2021. 
A comparison of the altered tweet (L) and the original version (R)
The other false tweet about satanism originally contained an election campaign poster by his party, United Party for National Development (UPND): "IN 11 DAYS - Your vote will stop cadre harassment," it reads. "It's Time For Change!"
This false tweet also included a thumbnail of a 43-second video that shows a virtual book titled "HH & MUNTINTA". 
The video is actually a tribute message celebrating Hakainde and Mutinta Hichilema's 33rd wedding anniversary, with no mention in it of satanism.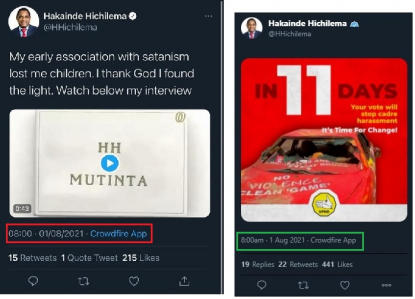 A comparison of the altered tweet (L) and the original tweet (R)
Zambian election
As reported by AFP, tensions are rising in Zambia ahead of the presidential elections on August 12, 2021, prompting an unprecedented deployment of the military to clamp down on violence.
Rival supporters wielding axes and machetes have clashed sporadically since campaigning started in May 2021, resulting in at least three deaths, according to police —  all members of the ruling Patriotic Front (PF).
The ballot pits longstanding adversaries against each other: President Edgar Lungu, 64, and Hichilema, 59, who is making his sixth bid for the presidency.
Lungu emerged as a narrow victor over Hichilema in snap presidential elections in 2015 and again in general polls the following year.