Experts deny claims that taking painkillers after Covid-19 vaccine causes death
Multiple posts on Facebook and WhatsApp in Nigeria claim that taking anti-inflammatory medication diclofenac or having "any anaesthesia" within two years of a Covid-19 vaccine leads to death. This is false; while experts discourage the use of analgesics before taking the vaccine, this is because the effect on the jab's ability to create an immune response is unclear. There is no evidence to show that painkillers taken after the Covid-19 vaccine cause death.
A viral broadcast on WhatsApp in Nigeria that begins as a "public service announcement" warns people who have been vaccinated against Covid-19 to avoid "diclofenac or any anaesthesia" for two years or risk death.
"The adverse effects of the vaccine with these have been fatal," the claim reads, before explaining how a medical doctor "accidentally killed his own wife" after giving her diclofenac following her Covid-19 vaccination.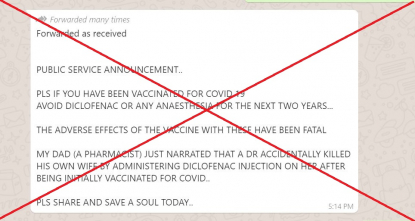 A screenshot taken on August 5, 2021, showing the false post ( Oluwamayowa TIJANI)
Diclofenac is a nonsteroidal anti-inflammatory drug (NSAID) used to treat mild to moderate pain, or signs and symptoms of osteoarthritis. According to the University of Michigan School of Medicine, it is known to increase risk of heart attack and could cause ulcers if used without a proper doctor's prescription. Pregnant women are advised to avoid it unless prescribed.
Background
The post appeared online after reports that a postgraduate student at Madurai Medical College in India, identified as Dr Hari Harini, died in hospital six days after receiving a diclofenac injection from her husband, who was also a post-graduate medical student.
Reports of the incident were shared on Facebook (see here, here, and here) and led to false claims about the purportedly fatal link between painkillers and Covid-19 vaccines.
A screenshot of a Facebook post, taken on August 5, 2021 ( Oluwamayowa TIJANI)
Although Madurai's District Health Department and local police denied her death was related to the Covid-19 vaccine she had received weeks earlier, messages like the one on WhatsApp in Nigeria began to circulate with warnings about medicating with diclofenac following a Covid-19 shot.
Autopsy findings
Dr B. Kannan, the medical administrator at Meenakshi Mission Hospital where Hari Harini died, told local media here and here that Harini was vaccinated on February 5, 2021, and admitted to the hospital on March 5, 2021.
The hospital and the district immunisation officer, Dr Arjun Kumar, also told the local media that an autopsy found Harini suffered hypoxic ischemic encephalopathy (brain dysfunction due to inadequate oxygen supply), which was the result of a severe allergic reaction.
Health officials added that the allergic reaction might have been caused by the diclofenac injection she had received a few days earlier but they ruled out the Covid-19 vaccine.
Painkillers and Covid-19 vaccine efficacy?
Experts advise against taking painkillers before and – if possible – after being vaccinated against Covid-19, not because there is a risk of death but because it is not yet known what effect there could be on the efficacy of the vaccine.
For this reason, said Michael Mina, assistant professor of epidemiology at Harvard T.H. Chan School of Public Health, people should try to avoid painkillers "beforehand" and "try very hard not to" after getting the vaccine.
According to Harvard researchers, "experiencing mild fever, chills, headache, or fatigue from the COVID-19 vaccine means that your immune system is kicking in the way it's supposed to".

A March 2021 study from the American Society for Microbiology on "diverse human cell culture and mouse systems" reported that painkillers have the ability "to modulate the immune response to SARS-CoV-2 infection". However, the study has not been carried out in humans yet.
But, while the US Centers for Disease Control and Prevention (CDC) does not recommend taking painkillers before a vaccination, it adds that over-the-counter painkillers are fine to help relieve post-vaccination side effects.
World Health Organization (WHO) spokesman Matthew Taylor, told AFP Fact Check that the UN health agency is not against people taking painkillers after their Covid-19 shot.
"If you have a fever after getting the vaccine or have some pain where you received the injection you can take widely available painkillers such as Paracetamol or Tylenol," said Taylor.
Chidera Chukwu, a medical doctor and public health professional in Nigeria, also told AFP Fact Check that painkillers could be used "as a prophylaxis [treatment]" after taking the vaccine. He said "fever, pain at the injection site and headache are common side effects which painkillers – which doubles as antipyretic/analgesics – can help resolve".
In Nigeria, the National Primary Health Care Development Agency (NPHCDA) reported in July that it had exhausted 4,024,000 doses of the Oxford/AstraZeneca vaccine, fully vaccinating more than 1.4 million people. The agency's CEO Dr Faisal Shuaib said the country recorded 14,550 mild to moderate side effects and only 148 severe side effects. He added that no deaths related to the vaccine have been recorded.