Posts share misleading 'flood warning' for Thailand and Laos after deadly China storms
As deadly floods struck China's Henan province, a video was viewed hundreds of thousands of times in Facebook posts that warned a deluge of water from a Chinese dam could cause major flooding in Thailand and Laos. The claim is misleading: the video shows water flowing from a Henan dam out to China's east coast, which does not affect Thailand or Laos, an expert told AFP.
"China discharges floodwater to Mekong during August-September. There may be a huge flood in Thailand and Laos. Don't be careless, we need to find a way to protect/prevent this," reads a Thai-language Facebook post from July 25.
The post shared a video that shows water gushing from a dam.
A siren noise and dramatic music can be heard in the background.
The clip has been viewed more than 929,000 times.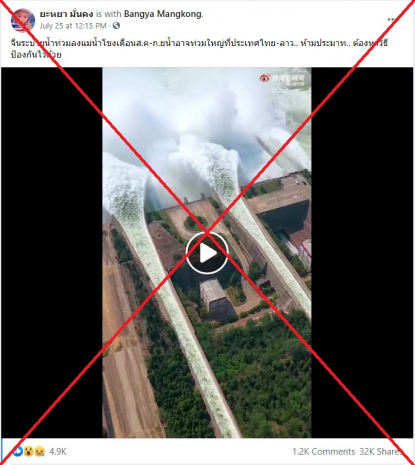 Screenshot of misleading Facebook post, taken on July 29, 2021
Devastating floods in central China's Henan province have killed at least 71 people and damaged thousands of homes.
The video was shared here, here, and here in Facebook posts alongside a similar claim.
The claim is misleading.
A reverse image search of a keyframe from the footage using InVID-WeVerify -- a digital verification tool -- found similar videos in Chinese social media posts, including here,here and here. 
The posts state the video shows Henan's Xiaolangdi dam.
AFP photos of the Xiaolangdi dam -- such as images included below from June 2016 -- show water released from the dam's floodgates as part of an annual cleaning operation.
AFP photos showing water released from the floodgates of the Xiaolangdi dam on June 29, 2016 (STR / AFP)
The dam pictured in the images corresponds directly with the dam shown in the misleading posts.
Below is a comparison of the video shared on Facebook (L) and an AFP photo of the Xiaolangdi dam (R):
Comparison between a screenshot from the video circulating in misleading Facebook posts (left) and an AFP photo of Xiaolangdi dam (right)
An expert told AFP that water discharged from Xiaolangdi dam flows into the lower Yellow River, which does not affect Thailand or Laos.
"The floods in Henan province have no effect on the water levels in the Mekong," according to Dr. Somkiat Prajamwong, secretary-general of Thailand's Hydro-Informatics Institute. "From the reservoir, the water will be pushed downstream and out to sea on the east coast of China. From this point, the water flows through the Yellow River and isn't connected to the Mekong".
As shown on Google Maps, the Xiaolangdi dam is located a considerable distance from Thailand and Laos:
AFP has previously debunked various false claims about the flooding in Henan, including here and here.