BJP politicians falsely claim PM Modi built landmark Mumbai bridge
Politicians from India's ruling Bharatiya Janata Party (BJP) claimed that the country's first "sea bridge", the 5.6-kilometre (3.5-mile) Bandra-Worli Sea Link in Mumbai, was built under the rule of Prime Minister Narendra Modi. The claim is false: work on the landmark bridge began a decade before Modi took office, and it was inaugurated in 2009, when the Indian National Congress was in power. 
"This is not a US-France London bridge, this is Mumbai's Bandra bridge. Under Modi's leadership, my India is moving forward and defining new ways of development through its actions and resolutions," reads a Hindi-language Facebook post published on July 16 by BJP worker Pankaj Awasthi.
"Today, my India is setting new records of development under the leadership of respected Prime Minister Narendra Modi. There are thousands of such projects and far-reaching policies, there are thousands of such achievements with Bharatiya Janata Party, which have been attained under the leadership of Modi. We will bring these works and achievements to more and more people and so form the BJP government again!"
The Bandra-Worli Sea Link is located in India's financial capital Mumbai, a city controlled by opposition parties.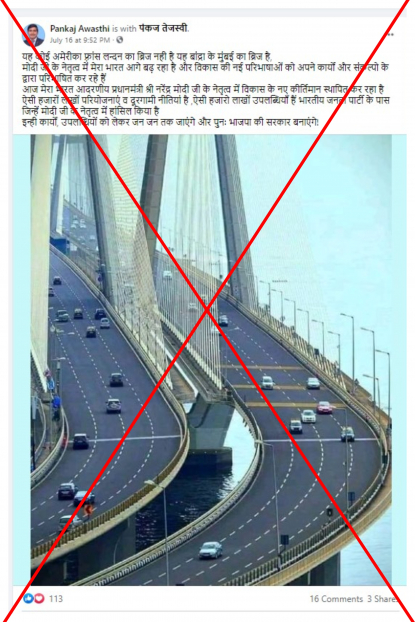 Screenshot of the misleading post taken on July 26, 2021
BJP district ministers Munnaram Suthar and Ghanshyam Kumar also shared the claim, which was picked up by Facebook users, including here and here. 
However, the claim is false.
AFP ran a Google keyword search and found various news reports on the opening of the Bandra-Worli Sea Link, an eight-lane freeway designed to cut the journey time between the eponymous Mumbai suburbs and ease congestion in the Indian financial capital's notoriously choked roads.
The landmark bridge was inaugurated on June 30, 2009 by Sonia Gandhi, party chief of the then-ruling Indian National Congress, the Times of India and Hindustan Times reported. 
The bridge, also known as the Rajiv Gandhi Sea Link, was named after her late husband, who was noted for promoting technology during his time as prime minister. 
The freeway was first commissioned in 2000 but work was held up until 2004 because of litigation and protests from the local fishing community.
In 2000, the BJP's Atal Bihari Vajpayee was prime minister. When work commenced in October 2004, Manmohan Singh from the Indian National Congress (INC) was in power, and still held office when the bridge was officially opened in June 2009.
Narendra Modi became prime minister in May 2014.
AFP has previously debunked misinformation shared by BJP politicians, including a photo of a garbage-filled river in the Philippines which party members falsely claimed was taken in Mumbai, and misleading posts attributing a string of crises in Delhi to the chief minister.