This photo shows a river in the Philippines, not India
A photo of a river clogged with rubbish has been shared in multiple Facebook and Twitter posts which claim that the river is in the Indian city of Mumbai. However, the claim is false; the photo actually shows a river in Philippines' capital Manila. 
The photo was shared on Facebook here on June 27, 2021, by a page with some 75,000 followers.
The Facebook post, sharing two photos, appears to compare two rivers with one looking clean and the other filled with garbage.
The caption to the post reads:
"Pic 1 - Sabaramati Riverfront, Ahmedabad, Gujarat (Fund spent by Gujarat State: ₹1400 crores)
Pic 2 - Mithi River, Mumbai, Maharashtra (Funds spent by BMC & MMRDA: ₹1000+ crores)
#TaleOfTwoCities 
#ModiHaiToMumkinHai" (#If Modi IsThere It's Possible)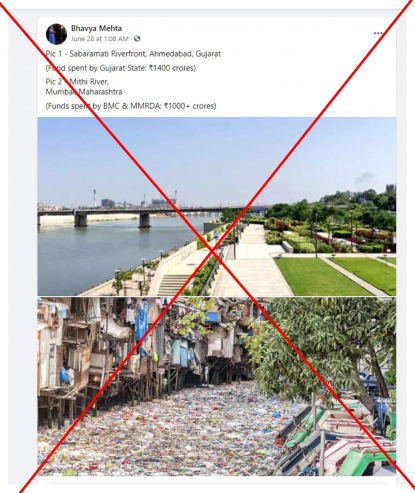 "Sabaramati Riverfront" refers to Sabarmati Riverfront in Indian state Gujarat, which is controlled by the ruling Bharatiya Janata Party (BJP).
The Mithi River is located in the city of Mumbai in Maharashtra, a state which is controlled by a coalition of opposition parties. 
The Mithi River was Maharashtra's most polluted river in 2018, according to this report released by the state's Pollution Control Board. The report found that the level of coliform content, which indicates the presence of human and animal excreta, was at least 15 times above the safe limit, as reported by local news outlet Hindustan Times.
Since November 2019, a coalition of three parties -- Shiv Sena, the Indian National Congress (INC) and the Nationalist Congress Party (NCP) -- have formed the government in Maharashtra. However, before that Maharashtra was governed by BJP, which had formed an alliance with Shiv Sena in the state after the 2014 state legislative assembly elections. 
The identical photos were published by several other accounts on Facebook, for example here and here alongside a similar claim. They were also shared by BJP party members on Twitter as seen here and here. 
However, the claim is false. While the first image does show the Sabarmati Riverfront as seen on Google Maps, the second photo of the river clogged with garbage is not of the Mithi River in India, but actually shows the Philippines' capital city Manila. 
A reverse image search on TinEye shows that the original photo was taken in January 2008 in Manila, Philippines by photographer Antonio V. Oquias, as can be seen on the Shutterstock Images website. 
The caption to the photo reads: "MANILA, PHILIPPINES - JANUARY 6: A river of garbage prevents the flow of water on January 6, 2008 in Manila, Philippines. Poverty and garbage disposal are major issues in the Philippines."
The photo was also used in this news report on plastic pollution by UK broadcaster BBC. 
Below is a comparison of the photo used in the Facebook post and the one found on Shutterstock.