This video shows demonstrators in Haiti in 2019 -- not Cuba in 2021
Social media posts from around the world have shared footage of what they claim shows anti-government protests in Cuba. The claim is false: the video actually shows an anti-government protest in Haiti in 2019.
"Cuba today," reads a traditional Chinese-language tweet posted on July 17. 
The video has been viewed more than 60,000 times.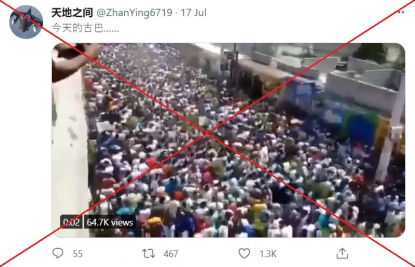 Screenshot taken on July 26, 2021, of the misleading Twitter post ( AFP)
Thousands of Cubans joined rare anti-government protests on July 11, as the country faced its toughest phase yet of the coronavirus epidemic.
The footage has been shared in various languages alongside similar claims, including Chinese, Spanish, Portuguese and Romanian.
The claim is false.
A reverse image search of keyframes from the footage, using the InVid-WeVerify tool, found the same video posted in this tweet from Russian media outlet Redfish.
It states the footage shows protesters in Haiti on October 13, 2019. 
An advanced Twitter search found the same video posted on the same day here, here and here in tweets about protests in Haiti.
The video was also tweeted by journalist Sandra Lemaire from Voice of America (VOA) on October 13, 2019.
She credited the footage to VOA Haiti correspondent Alexandre Joram, VOA correspondent.
A search of VOA's Instagram page in Haiti, VOA Kreyòl, found the same sequence published on October 13, 2019.
The post says the video shows a "Haitian artists" march and credits the footage to Alexandre Joran.
 

 

View this post on Instagram

 
Thousands of Haitians marched on October 13, 2019 to demand the resignation of demonstration then-president Jovenel Moise.
Anti-government demonstrations paralysed daily life across much of Haiti from September to December 2019, with anger at Moise -- whose victory in the November 2016 election was rejected by the opposition -- boiling over due to a national fuel shortage.
Moise's assassination on July 7, 2021 plunged the impoverished Caribbean nation in crisis. AFP debunked various false reports about the incident here and here.