Video shows fire at a different South African prison than one where ex-president Jacob Zuma is held
Facebook posts shared hundreds of times claim that protesters have set alight the prison where South Africa's former head of state Jacob Zuma is currently incarcerated. The claims are false, according to a spokesman for correctional facilities. Furthermore, the video being shared in the posts show a fire at a different prison.
A Facebook post published on July 12, 2021, shows several people running on the roof of a building, while smoke billows from a similar-looking structure nearby.
"Where are those that said 'ITS NOT ABOUT ZUMA' … ESTCOURT PRISON ON FIRE PEOPLE WANT ZUMA (sic)," read the post's caption.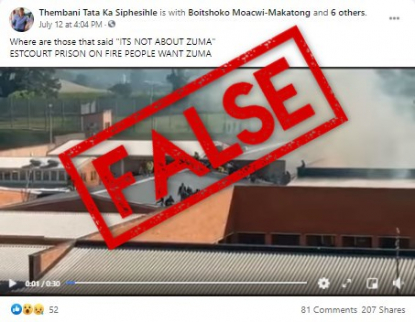 A screenshot of the false Facebook post, taken on July 14, 2021
Another video on Facebook shows a side-view of the same smoky building -- recognizable by the burnt-orange colour of the building, the trees and the dark smoke.
"Apparently Estcourt Prison is Burning … Wonder if they will move comrade Zuma (sic)?" the second post's caption reads.
A screenshot of the false Facebook post, taken on July 14, 2021
Zuma in different prison
Multiple Facebook users noted in the comments that the video did not show Estcourt Correctional Centre -- where Zuma is being held -- but rather the Umzinto Correctional Centre, another KwaZulu-Natal-based prison approximately 230 kilometres southeast. 
Despite users' comments, the posts had not been corrected as of July 14, 2021. 
Estcourt prison, where Zuma is incarcerated, was refurbished in 2019. According to pictures taken on July 8, 2021, the buildings are predominantly cream or off-white in colour, compared to the orange in the false post.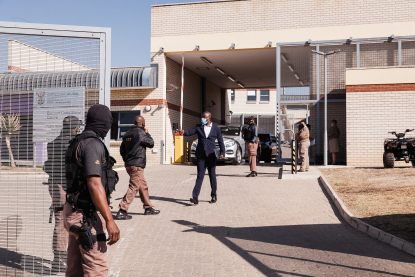 Officials at the Estcourt Correctional Centre, where former South African president Jacob Zuma began serving his 15-month sentence, on July 8, 2021 ( AFP / -)
A screenshot of the incident at the Umzinto Correctional Centre taken from a YouTube video from the South Coast Herald
A Google search leads to several articles in local media (here and here) reporting about a prisoner who fell to his death while trying to escape Umzinto Correctional Centre on July 12, 2021.
According to these reports, fire had broken out at the prison earlier in the day, and this prisoner was part of a group that tried to use the opportunity to flee from custody but fell to the ground and succumbed to his injuries.
The correctional services said in a statement that the fire was contained but that the department was on high alert in light of ongoing unrest in the country.
Deadly protests and looting
Zuma was handed a 15-month prison sentence on June 29, 2021, by the country's top court for refusing an order to appear before a commission probing the graft that proliferated under his administration.
He started serving the term early on July 8, 2021, after handing himself into authorities. He is seeking to have the ruling set aside.  Zuma's sentencing sparked protests that swiftly turned violent.
Unrest has raged in South Africa for a week, stoking fears of food and fuel shortages as disruption to farming, manufacturing and oil refining continues.
Seventy-two people have died and more than 1,200 people have been arrested, as reported by AFP.
Looting has hit supply chains and transport links in the Johannesburg region and the southeastern province of KwaZulu-Natal, sending a shockwave to goods and services around the country.
Stores and warehouses have been targeted by looters, despite President Cyril Ramaphosa deploying 2,500 troops to help the overwhelmed police force. Another 2,500 soldiers have been deployed around the country.
A South Africa National Defence Force (SANDF) soldier detains a suspected looter at Jabulani Mall in Soweto on July 13, 2021. ( AFP / LUCA SOLA)
South Africa's President Cyril Ramaphosa asked people to "refrain from posting and circulating inflammatory messages on social media, and from spreading rumours or false reports that may create further panic," in a televised address to the nation on July 12, 2021.