The photo shows a 2012 Ugandan army helicopter crash, not an accident involving Kenyan forces
A Facebook post circulating in Uganda claims to show images of a recent Kenyan military aircraft crash that left at least 10 soldiers dead. But the claim is partly false: although one of the photos is from the June 2021 accident, the other was captured nine years ago after a Somali-bound Ugandan military plane crashed at Mount Kenya.
On June 24, 2021, a Ugandan Facebook page called STV Uganda shared two images with a claim that they showed the fatal Kenyan military plane crash that occurred the same day. 
"PHOTOS: 10 soldiers die, 13 hurt as Kenya Defence Forces chopper crash lands in Kajiado," reads the Facebook post, which has been shared nearly 50 times. 
The same claim was shared on Facebook here, here and here.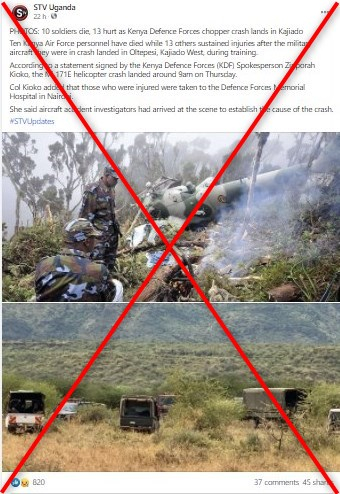 A screenshot of a misleading Facebook post, taken on June 25, 2021
Although there was a crash involving a Kenya Defence Forces chopper on June 24, 2021, only the second image is from the recent accident. The top photo was taken in Uganda nearly a decade ago.
Recent chopper crash
An aircraft carrying 23 members of the Kenya Defence Forces (KDF) crashed in Kenya's Kajiado West area during a training exercise on June 24, 2021, killing at least 10 soldiers.
A senior police official told AFP Nairobi that the aircraft lifted off Moi Airbase and went down shortly after 9 am local time. 
The misleading Facebook post accurately describes some details of the accident, and the second photo in the post is from the crash. It was used by local media to report the accident here.
However, the top image does not show the scene of the Kenyan incident.
First, the uniforms worn by the two military members in the photo are of the  Ugandan Air Force and not the Kenya Defence Force. This image captured from a different angle shows the Ugandan flag imprinted on one of the soldier's uniforms.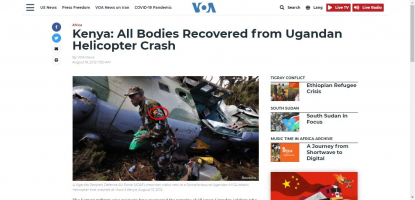 A screenshot of a VOA article showing a Ugandan soldier at the scene of the 2012 military plane crash, taken on June 25, 2021
A reverse image search on TinEye revealed that the picture was captured on August 13, 2012, by photographer Peter Greste for the Reuters news agency after a Somali-bound Ugandan military plane crashed at Mount Kenya.
The caption reads: "Uganda People's Defence Air Force (UPAF) personnel look at smoke at the site of a Somalia-bound Ugandan attack helicopter crash at Mount Kenya, August 13, 2012."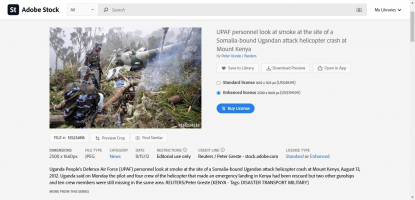 A screenshot of Reuters' picture Ugandan military plane crash, taken on June 25, 2021
According to media reports (here and here), the plane was part of a military deployment for the African Union Mission in Somalia where Ugandan and other African Union forces had joined arms to fight Al Shabaab, an Al-Qaeda-aligned jihadist group fighting to overthrow the internationally-backed government in Mogadishu.