How smart are Hong Kong's lampposts?
Footage of black-clad masked men using an angle grinder to fell a lamppost has been viewed millions of times in Twitter and Facebook posts which claim it shows protesters in Hong Kong cutting down "facial recognition towers". Hong Kong's government says the structure in question was one of the city's 50 smart lampposts which do not have facial recognition functions, although some contain cameras; experts told AFP that images from almost any camera can be used for facial recognition; city documents show the smart lamppost being cut down in the video did not contain a camera.
Hong Kong has seen three months of street protests sparked by a proposed legislation that would have allowed extraditions to China, as this AFP report explains.
Many of Hong Kong's pro-democracy protesters take steps to protect themselves from being identified, for example wearing face masks, turning off location tracking on their phones, and buying single tickets on the city's public transport network. This AFP article explains why.
A video, posted here on Twitter, shows protesters using an angle grinder to take down and dismantle a smart lamppost in the Kowloon Bay neighbourhood on August 24, 2019, during Hong Kong's 12th consecutive week of protests.
The video has been viewed more than 14 million times since it was posted here on Twitter on August 25.
The post's caption says: "Protestors in Hong Kong are cutting down facial recognition towers." 
A screenshot of the tweet
The footage was recorded at this intersection in Hong Kong's Kowloon Bay neighbourhood.
This Getty Images photo shows the same incident on August 24.
The video of the incident has since been shared widely alongside similar claims, including on Twitter here and here, on Facebook here and here, and on Reddit here.
Hong Kong's Office of the Government Chief Information Officer told AFP in an August 26 email that 20 smart lampposts were damaged in the August 24 protest and remain out of service as of early September 2019.

An excerpt of the August 26 email sent to AFP by the Hong Kong Office of the Government Chief Information Officer
Below is a screenshot of the location of the 20 lampposts damaged in Kowloon Bay on Google Maps. The blue marker is the location of the lamppost cut down in the footage.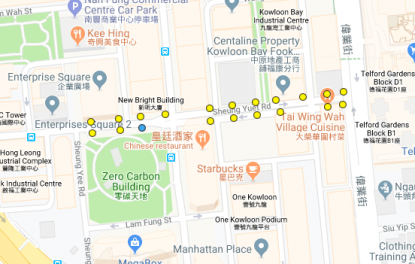 A map of the locations of damaged smart lampposts
What are smart lampposts?
The Hong Kong government has been replacing conventional lampposts with "smart" versions that are able to automatically adjust their lighting, collect weather data, and monitor local traffic flows, among other functions. Their deployment is part of Hong Kong's smart city blueprint, which can be viewed here.
Chief Executive Carrie Lam first flagged the smart lamppost rollout after she was appointed head of the city government in 2017, during her first policy address as leader, as part of a HK$700 million ($89 million USD) spending commitment on smart city infrastructure.
The government plans to roll out 400 of the lampposts by 2021 in some of the busiest areas in Hong Kong, including the Central, Wan Chai, Causeway Bay and Tsim Sha Tsui neighbourhoods.
Fifty lampposts have been erected so far since the rollout began in late June 2019 -- 20 in Kai Tak district, 10 in Kwun Tong town centre, and 20 in neighbouring Kowloon Bay.
What can smart lampposts do? 
According to this government chart, all 50 lampposts have a bluetooth beacon, Radio Frequency Identification (RFID) tag and QR-code tag for geolocation purposes. Most also have network equipment to transmit data.
Eighteen of the lampposts also have 360-degree panoramic cameras and "industrial grade" computers used for image processing. Two of the cameras are used to monitor traffic flow and transmit photos at two minute intervals. Snapshots are available to the public through the Hong Kong government's data portal here and here.
The lamppost seen being taken down in the video footage was EE704, according to this chart. It did not contain a camera.
Below is an image, extracted by AFP from the government portal on August 26, which was taken from a camera at the intersection of Shing Kai Road and Muk Chui Street in Kai Tak:
A snapshot of traffic conditions at Shing Kai Road and Muk Chui Street taken by a smart lamppost camera
The other camera equipped to monitor traffic flow, on the corner of Wai Yip Street and Sheung Yuet Road, was damaged on August 24. As of September 4, it shows an error message, as seen in the screenshot below:
An error message from the damaged lamppost
One of the other stated purposes of the lampposts is to use them as base stations for the rollout of the city's 5G mobile phone network.
This diagram from the Office of the Government Chief Information Commissioner gives a visual representation of the hardware mounted on the lampposts. The image can be seen below. 
A Hong Kong government diagram of smart lamppost hardware
The government announced on July 16 that some functions of the lampposts would not be activated due to privacy concerns.
"In view of the public concern over some of the applications which may touch on privacy, some functions of the lampposts will not be activated at this stage. These include the monitoring of illegal dumping with the aid of cameras located near black spots by the Environmental Protection Department, the assessment of road use by different types of vehicles enabled by Bluetooth traffic detectors and cameras collecting car plate numbers by the TD," the statement adds. 
Are Hong Kong's smart lampposts being used for facial recognition?
The Hong Kong government has repeatedly denied that the lampposts have a facial recognition function.
"The lampposts do not carry any facial recognition function. Images taken will not be sent to any third party for facial recognition applications," the July 16 statement said.
City innovation and technology secretary Nicholas Yang, whose department is responsible for the smart lamppost rollout, told reporters on August 23 that the structures would not be used as part of the kind of expansive surveillance system used in China.
"I hope to reiterate once again that there is no face recognition function and no identity card information," he said, according to the Chinese transcript of the press briefing which can be seen here.
The government has disabled some lamppost functions and the Office of the Government Chief Information Officer told AFP in an August 26 email that settings on the two active lamppost cameras had been adjusted to prevent any potential privacy breaches:
"The only two cameras which are activated have been set to take traffic snapshot images of a resolution of 320x240. Such resolution is impossible for identification of vehicle number plates and facial recognition. After releasing the images on the data.gov.hk, the file will be deleted within 1 second," they said in a statement emailed to AFP.
The smart lamppost cameras were originally designed to operated at a much higher resolution for recording vehicle number plates and monitoring illegal dumping -- two of the functions that have since been scrapped over privacy concerns.
The cameras are capable of recording video at a resolution of 2K but "do not carry any AI or facial recognition function", the office told AFP in a subsequent email on August 28.
However, experts told AFP that footage collected by smart lampposts could still be used to identify people.
Jeffrey Ding, researcher at Oxford University's Future of Humanity Institute, told AFP in an August 27 email that smart lampposts were "much closer" to CCTV cameras than facial recognition cameras.
"I think most of the evidence shows that these smart lampposts are much closer to the CCTV camera end than the facial recognition camera end of the spectrum," he said.
"There's a meaningful difference between regular CCTV cameras (collect footage and feed it back to a central processing station where facial recognition could be done) and facial recognition cameras (more expensive types of cameras optimized for identifying faces on the front-end, often times have higher compute costs and better quality of images to ensure facial recognition works in dark or rainy conditions)."
An expert in Australia, who spoke on condition of anonymity due to the sensitivity of the issue, said if the lampposts contained any camera, "there is no reason why it cannot be used for surveillance purposes and facial recognition."
"Such cameras are installed to record images and videos, which are almost always streamlined to a control center for further analysis," they said.
"Even the intention may not be applying facial recognition, it is extremely easy to repurpose any camera with a data connection and transfer capability (e.g. through wi-fi, ethernet, coaxial, etc.) as a face recognition sensor by simply connecting its video stream to a surveillance software. Such software tools are already available in many forms. Anyone with some decent computer vision background and some engineering software can integrate such a system."
Hong Kong author and activist Kong Tsung-gan, who wrote a book on the city's pro-democracy movement and an earlier round of civil unrest in 2014, articulated similar fears on a Twitter thread here.
For that reason, the vigilance & suspicion showed by #HK citizens are necessary. We should constantly be asking, What are these cameras? Are they necessary? What are they doing? We should stop facial recognition tech at all costs.

— Kong Tsung-gan / 江松澗 (@KongTsungGan) August 25, 2019
'Personal threats'
A Hong Kong company involved in the smart lampposts project, Ticktack Technology Limited, issued a statement on on August 25 saying it would cease to be involved in the project after its directors's families and employees received threats over the program.
"In view of personal threats to our company directors' family members as well as our employees, and public doubts about the company's projects/services. Ticktack Technology Limited decided that after we finish helping the relevant work on the installed 50 smart lampposts, we will stop providing and installing other intelligent devices involved in Hong Kong Special Administrative Region Government's project. We hope this can calm the doubts of citizens and clients, and can focus us on improving the internal network security and management."
The company denied having any links with a mainland company, Shanghai Sansi, one of the mainland contractors behind China's surveillance network, according to local media reports.