"How could we rejoice in the Notre-Dame fire?" Two victims of online hate share their story
For the past three weeks, S. and J.*, two architecture students, look twice before leaving the house. On the night of the Notre-Dame fire, they were photographed smiling while the Paris cathedral burned in the background. An "avalanche" of online hate targeting them personally immediately ensued.
On April 15, two friends were sitting at a cafe in Paris when cell phone notifications alerted them to an ongoing fire at Notre-Dame. They rushed to the cathedral even as the smoke was already visible "everywhere" around Paris. "We're architecture students, we wanted to see what was happening with our own eyes," S., 21, told AFP.
For "a good half hour, maybe forty-five minutes," S. and J. -- whose identities were verified by AFP during an in-person interview on May 3 -- witnessed the Notre-Dame fire from the south shore of the Seine, the river that crosses Paris in its center. Notre-Dame sits on an island in the middle of the river.
Police officers then asked S. and J. to exit the security perimeter. As they crossed under the red and white security tape on Lagrange street (in Paris' fifth district), around 8pm, Paris time, the photo responsible for their future problems was taken.
The picture, published with no caption on the Sputnik France Facebook page at 9:37pm, was soon shared by far-right pages in France and the US.
"Muslims laugh as blaze destroys Notre Dame cathedral during Holy Week," US far-right influencer Pamela Geller wrote, as early as 10:45pm. The known anti-Islam activist has more than 1.3 million followers on Facebook, and this post was shared 33,000 times since its publication.
Screenshot taken on May 3, 2019 of a Pamela Geller's Facebook post
Shortly after, French-language Facebook page Infos-Israel.News published an article titled "Allah is great': Muslims laugh at sight of Notre-Dame fire."
In a few hours, the photo spread across social media, including on forums like Reddit and 4Chan. Numerous online users accused S. and J. of rejoicing at the sight of the Notre-Dame tragedy. In the comments sections, racist and Islamophobic slurs rub shoulders with death threats.
"Wonder how they would laugh if someone torched the Dome of the Rock!" asks one commenter, while another suggests hanging the two friends (below).
The two young men received messages from school friends telling them of the publications the same evening. "It was completely surreal," J. remembers.
"I was never the target of racism until now. With this, I got enough for two lives," S. said as he showed comments that he captured on his phone to an AFP journalist.
Screenshots taken on May 6, 2019 of two Facebook comments
Since the photo became viral, Sputnik France published an article to highlight that "at no point did Sputnik insinuate that these two individuals were Muslim, nor that they were laughing because of the fire." 
"The news agency was quite surprised by the fact that some, apparently, see fit to speculate about the religious beliefs of these two men based on their appearance only," according to the article. 
"Seeing an architectural gem burning doesn't leave you unaffected"
Why were S. and J. smiling on the viral photo? "As we were going under the security tape, it caught my face. It made us smile," said S.
"We visited Notre-Dame, we took photos of it, we studied it, and we made a 3D model of it, so how could we rejoice in the fire?" he added. "As architecture students, seeing an architectural gem burning doesn't leave you unaffected."
To prove his sincerity, S. showed his smartphone screen to our AFP journalist, revealing messages sent by a relative on Snapchat during the fire:
"I can't believe it. I saw the spire fall," he wrote in one of these messages.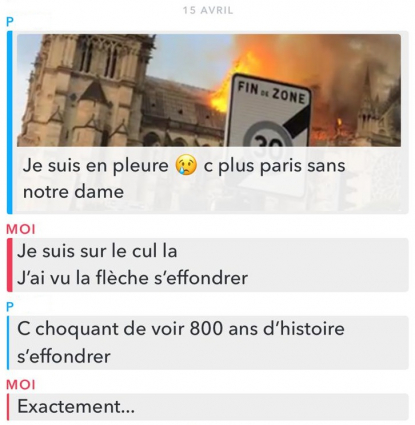 Screenshot taken on May 3, 2019 of Snapchat
Boris Rosenthal, their lawyer, said he sent "about fifteen" formal notices to various websites for image right infringement, the right of individuals over images of themselves in French law.
In one of the notices made available to AFP, he decries an "avalanche of fake news" targeting his clients. "Some online users showed a desire to find my clients and threatened them," he added, highlighting that they are "fully identifiable" in the picture.
"We must sensitize people who read, as well as those who write or comment, to the fact that behind an unverified information, there are people who have to face direct consequence on their lives," Rosenthal further told AFP.
Copy of the legal notice sent to website Infos-Israel.News
S. worries about being recognized during an internship interview. "It could be a factor against me," he fears.
For the past three weeks, J. and S. have been careful not to be seen together, and try not to dress as they did on the photo. "I look around me as I leave my home," S. said, worried that a "crazy" person might assault him.
A few days ago, the two friends saw camera crews from two French channels. They avoided them out of fear of being recognized.
*The names of both students were made anonymous