Hoax claims about rival pair's whereabouts end with broadcasts from their Juba homes
South Sudan President Salva Kiir and his first deputy Riek Machar recently became targets of tit-for-tat claims on Facebook alleging they had flown to foreign countries for COVID-19 treatment. For four days, rumours about the two men -- bitter rivals since the 2013 civil war -- flew thick and fast on social media. Allegations that they were abroad  (and even dead in the case of Kiir) were finally put to bed with television appearances from their respective homes in the capital, Juba.
The first claim was posted here to a public Facebook group on May 21, 2020.
It cites an unnamed insider claiming that First Vice President Riek Machar and his wife, Defence Minister Angelina Teny, were on their way to the United Kingdom to be treated for COVID-19. A few days earlier Machar and Teny had, in fact, tested positive and were self-isolating at home.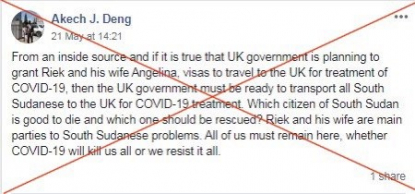 A screenshot of the misleading Facebook post taken on June 8
The post received only one share but a few hours later a similar version of the claim, with pictures, was posted here.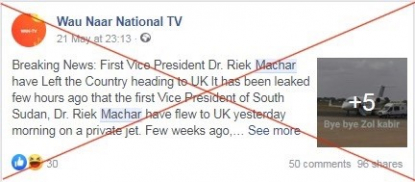 A screenshot of the misleading Facebook post taken on June 8
One of the images features a jet and a UN-inscribed ambulance parked on a runway with suited health workers appearing to board the plane. The inscription reads "Bye bye Zol kabir", a term that refers to someone important in Juba Arabic, a South Sudanese  colloquial Arabic.
A screenshot of the misleading Facebook post taken on June 8
This post was spread within minutes by news blogs and Facebook groups focused on current affairs in South Sudan, data from social media analysis tool CrowdTangle shows.

A screenshot of a dataset from CrowdTangle taken on June 8 highlighting how the second post was shared multiple times just minutes apart.
Many of these groups and pages reposted the claim the following day, but with another image showing two stationary aircraft and workers in hazmat suits. A  reverse image search revealed the image was part of a series of pictures taken by a Reuters photographer on April 5, 2020 at Juba International Airport for an unrelated article.
A screenshot of the misleading Facebook post taken on June 8
Kiir and Egypt
CrowdTangle data show that this Facebook post here from May 22, 2020 was one of the first to make a similar claim about President Kiir. It was also posted on Facebook here and published on the East Africa Business Week news website here. 
Screenshot of the misleading Facebook post, taken on June 11, 2020
Tagged as "Breaking News", it claimed Kiir was flown to Egypt for medical attention after testing positive for COVID-19. The post included the same image of an aircraft and an ambulance with UN livery featured in the earliest claims about Machar and his wife.
It claimed that the president had developed COVID-19 symptoms including shortness of breath and "swelling of chest".
"According to his personal doctor he said that the President was okay for the last two days since he was found positive for Coronavirus (sic)," the post reads. 
Bolstering these rumours was a document shared on the WhatsApp messaging platform purporting to show an official handover of power from Kiir to his fourth vice president, Hussien Abdelbagi, who himself had tested positive for COVID-19.
Screenshot of a fake document taken on June 8
Speculation was further heightened with this Facebook post on May 23, 2020, reporting that Kiir had died in Egypt. "Leaks from reliable doctors in Cairo, Egypt indicate that the President of the Republic of South Sudan has died last night after his lungs have failed to pump air into his body," part of the caption reads. 
Screenshot of the misleading Facebook post, taken on May 29, 2020
The death claim also appeared here and here.  
A day later, another WhatsApp message began circulating, claiming to be written by "citizens of Warrap State" -- where Kiir comes from -- demanding that he appear in public as proof that he was still alive.
"We... are very deeply concerned about the ongoing rumours that our son president Kiir was evaluated to Egypt for treatment of COVID-19," the message starts off. "If true, we wish him speedy recovery...We therefore, are humble but urgently asking you as our representatives in Juba to tell us the truth regarding the health of our dear son and the president (sic)."
It goes on to list five questions and demands, including confirmation that Kiir was alive.
Polarising figures
Understanding some of South Sudan's young history helps explain these claims.
War broke out in 2013 in South Sudan, two years after the nation had gained independence from Sudan. Kiir and Machar were the main protagonists in the civil conflict during which about 380,000 people lost their lives and more than four million were displaced.
In 2019 the warring parties signed a revitalised peace deal after previously failed attempts and formed a unity government in February, 2020, installing Machar as Kiir's first vice president and one of five. Divisions and problems linger, however.
Abraham Mariak, a political journalist at South Sudan's Al Mauqif newspaper, told AFP Fact Check that both men continued to be dogged by rumours because of old loyalties, tribal differences and the country's economic plight.
"The supporters of both sides aim for the elimination of their main opponent," he said, explaining that most of the claims linking the two to sickness or death emanate from the pair's tribal support bases which hold them in high regard.
"When people say that government officials are leaving the country for treatment abroad, they are trying to shed light on the poor health care system in South Sudan, which includes corruption in the country," Mariak added.
Putting to bed the claims
In response to the various social media claims, online denials were issued on behalf of Kiir (here and here) and Machar (here, here and here). 
These were followed by television appearances: Machar was first, sending Eid al-Fitr greetings on May 24, 2020, from his home in Juba.
Screenshot of a Facebook post from Machar's official page, taken on June 16, 2020
A day later, Kiir held a press conference at his residence, also in the capital -- the event was reported here and here, and a clip posted here on the South Sudan Broadcasting Corporation's Facebook page.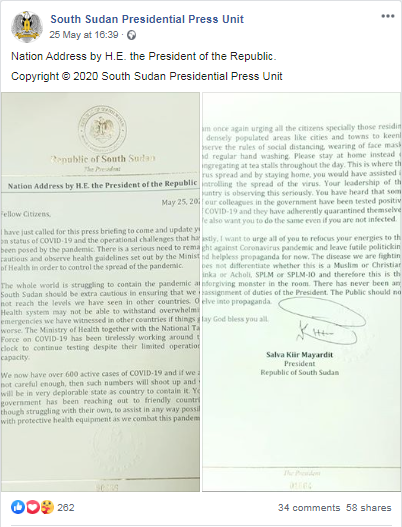 Screenshot of a press statement by Kiir on the South Sudan presidency Facebook page, taken on June 16, 2020
Denying the claims that he had left the country and handed over power, Kiir said in his statement: "I want to urge all of you to refocus your energies to the fight against the coronavirus pandemic and leave all the futile politicking and helpless propaganda for now."
South Sudan, one of the poorest countries in the world, had recorded 1,813 cases of Covid-19 as of June 17, 2020.