Hoax circulates in India that government has banned coronavirus-related posts on social media
A claim that India's Ministry of Home Affairs has made it a "punishable offence" for citizens to publish posts on social media about the novel coronavirus has been shared repeatedly on Facebook, Twitter and WhatsApp. The claim is false; India's official Press Information Bureau said it had made no such law; an online search for the purported government minister who issued the alleged ban yielded no results.
The claim was published on Facebook here on March 29, 2020.
Below is a screenshot of the misleading post: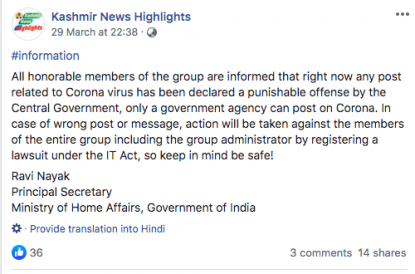 The post reads as: "#information All honorable members of the group are informed that right now any post related to Corona virus has been declared a punishable offense by the Central Government, only a government agency can post on Corona. In case of wrong post or message, action will be taken against the members of the entire group including the group administrator by registering a lawsuit under the IT Act, so keep in mind be safe! Ravi Nayak, Principal Secretary, Ministry of Home Affairs, Government of India."
Since March 24, 2020, India has been under a nationwide lockdown to slow the spread of the novel coronavirus, which causes the disease COVID-19. The virus has killed at least 67,594 people and infected more than 1.2 million others worldwide, according to World Health Organization data on April 6, 2020.
A similar claim was also shared on Facebook here and here and on Twitter here and here.
The claim is false.
"No such order has been issued by the Ministry of Home Affairs," the Indian government's official Press Information Bureau said on Twitter here on March 30, 2020.
No such order has been issued by the Ministry of Home Affairs.

Note: By sharing only official and accurate information on coronavirus, you can protect yourself and your family members.

For authentic information, please follow @MoHFW_INDIA and @PIB_India pic.twitter.com/XhVJnzjaUV

— PIB Fact Check (@PIBFactCheck) March 30, 2020
A search of the Home Ministry's website for an employee named "Ravi Nayak" also produced no results.
Below is a screenshot of the search result: