Hoax circulates on Facebook that Burmese mixed martial arts fighter is offering $38 million to Myanmar people
An image has been shared hundreds of times in multiple Facebook posts alongside a claim that a well-known mixed martial arts (MMA) fighter in Myanmar is offering 50 billion kyats (US$38 million) to the people of Myanmar. The claim is false; in response to the misleading posts, the MMA fighter posted on Facebook that he made no such offer.
The post was published here on Facebook on September 30, 2020. It has been shared 22,000 times.
The Burmese-language caption translates to English as: "MMA fighter Aung La Nsang and U Aung Min Thein will donate 50 billion kyat each to Myanmar people. Our Facebook group will contact and transfer money to everyone. Please follow the group instructions and withdraw MMK 100,000 (US$ 70) per household."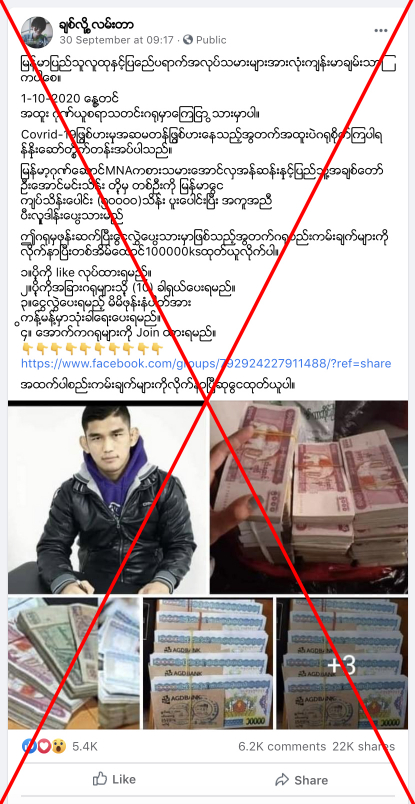 A screenshot of the misleading Facebook post taken on October 2, 2020
Aung La Nsang, known as the Burmese Python, is a Myanmar-born MMA fighter and current One Championship's Middleweight and Light Heavyweight World Champion. 
The same photo was also shared alongside similar claims on Facebook here and here.
The claim, however, is false. 
In response to the misleading posts, Aung La said he was not offering cash handouts in this September 30th Facebook post.
The post translates to English in part as: "There is misinformation spreading from some Facebook pages that I'm doing donations in cooperation with other philanthropists. Please may I inform you not to trust this false news and do not write down your personal information in comment boxes of those fake news posts. Although there are a lot of advantages by using Facebook, please be aware of hoax news and misinformation. All information about myself will be updated on my personal verified Facebook page".