This graphic with a purported quote from a top administration official in the Philippines has been doctored
A graphic with a purported quote from former Philippine presidential spokesperson Salvador Panelo has been shared in multiple Facebook posts. The graphic, which appears to have been published by Philippine news outlet Inquirer.net, claims that Panelo said the poor are to blame for being unable to protect themselves from the COVID-19 pandemic. However, this claim is false; the graphic was doctored to include the quote and was disowned by the Inquirer, which called on social media users not to share "manipulated" images.
The graphic was published here on Facebook on April 16, 2020.
The purported quote, written in a mix of English and Tagalog, translates to English as: "Stop the criticism, suffer from this, you are poor, you don't have savings, you did not prepare for emergency, that's your fault. You are very lucky, the government is doing all its best to help you."
The quote is credited to Panelo, who now serves as the chief presidential legal counsel for President Rodrigo Duterte, and is dated April 8, 2020. 
The post's caption states, in part: "Painful but true."
Below is a screenshot of the misleading post: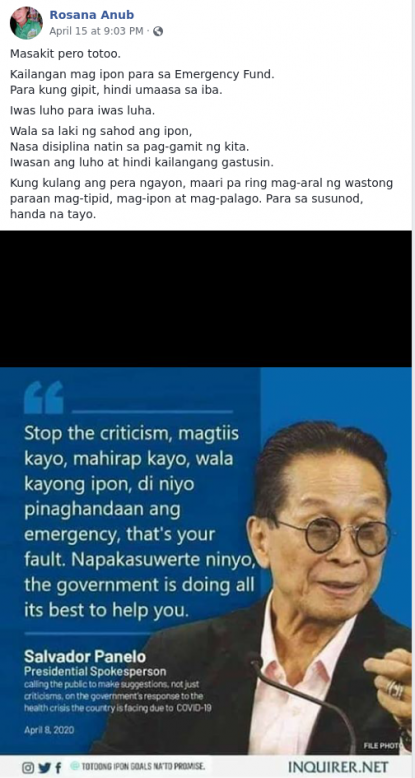 Screenshot of Facebook post
The same graphic, whose layouts appears identical to others published by Inquirer.net, was also shared on Facebook here, here and here alongside similar claims.  
However, the claims are false.
Inquirer.net issued this statement on Facebook on April 12, 2020 denying they published the graphic and affirming that it was "manipulated".
Below is a screenshot of Inquirer.net's statement, which shows a comparison of the doctored and original quote cards:
Screenshot of Inquirer.net's statement
The post reads, in part: "WARNING! The INQUIRER.net did not produce the image on the left. We urge the public to be wary and mindful of the content they share."
The original Inquirer.net graphic, published here, matches this official government transcript of Panelo's April 8, 2020 press conference. Panelo did not seen making any comments on the poor in his remarks.