This graphic has been doctored from a post on a Philippine news organisation's Facebook page
A text graphic with a quote attributed to a Philippine government spokesperson has been shared repeatedly in multiple Facebook and Twitter posts. The graphic, which purports to quote the spokesperson as saying President Rodrigo Duterte receives millions of dollars from offshore gaming operations, contains a logo for an online news organisation based in the Philippines. But the graphic has been doctored; the Philippine news organisation, The Inquirer, said it had been digitally altered from an earlier post on its Facebook page; the presidential spokesperson also said the graphic was "fake".
This Facebook post shared the graphic on May 4, 2020. The text in the image, which is credited to Philippine online news organisation Inquirer.net, purports to quote remarks made by presidential spokesperson Harry Roque on May 2, 2020.  
Below is a screenshot of the misleading Facebook post:
Screenshot of Facebook post
The purported quote and text in the graphic reads: "There is no favouritism there, on the other hand, 460 million pesos every month goes to the President because of POGO operations while US owned BPO's don't give anything. Its only fair to give POGO's priority because it's them that give, for what are we in power for especially the President if we don't receive anything / Presidential Spokesperson Harry Roque / insisting that the government did not show favouritism to Philippine offshore gaming operators / May 2, 2020".
The post's caption reads: "There DDS what can you say about this? it's clear presidential spokesperson Harry Roque said 460 million every month goes directly to the president, given by his Chinese bff, (POGO)".
"DDS" refers to "Diehard Duterte Supporters", while "BPO" and "POGO" are acronyms for business process outsourcing and Philippine offshore gaming operators respectively.
BPO firms have been allowed to continue operating during the Philippines' COVID-19 lockdown, which has been in place since March 17, 2020. On May 1, the government announced POGO firms can partially resume their operations.
The same purported Inquirer.net graphic was shared alongside a similar claim here, here and here on Facebook; as well as here on Twitter. 
But the graphic has been doctored.
"This image has been altered or manipulated by individual/s or group/s out to discredit Inquirer.net," Abel Ulanday, the publication's editor-in-chief, told AFP in an email on May 4, 2020.
Inquirer.net's original graphic, which accurately quotes Roque, was published on the site's Facebook page here. The publication also reported on Roque's remarks in an article here. 
The original graphic's quote, as translated in Inquirer.net's report, reads: "There's no favouritism, on the contrary, the equal protection clause provides that all those similarly situated must be treated alike. The IATF approved the resumption of BPOs, that's already been approved. Pogos are a kind of BPO."
Below is a screenshot comparison of the altered graphic (L) and the original Inquirer.net graphic (R):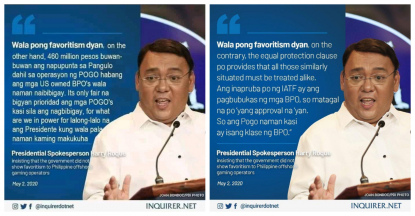 Screenshot comparison
The Philippines' Office of the Presidential Spokesperson also refuted the fake graphic in this Facebook statement on May 3, 2020. "FAKE NEWS ALERT!" Roque's office wrote. 
This official transcript of Roque's May 2 briefing contains none of the purported remarks quoted in the doctored graphic. The accurate remarks quoted in the original Inquirer.net graphic are reflected in the transcript.