Ghana pastor didn't say he could bring Bryant back from the dead, claim came from a satirical website
Viral posts across Africa claim that a pastor in Ghana said he could raise Kobe Bryant from the dead if he received 10 percent of the US basketballer's wealth in offerings. But AFP traced the story back to a satirical website. 
One post shared more than 3,300 times on Facebook, archived here, alleges that a popular Ghanaian preacher known as Prophet Nigel Gaisie said: "I Can Raise Kobe Bryant If 10% Of His Net Worth Is Given Me [sic]". The post links to an article, which claimed the preacher told his congregation that he was able to resurrect Bryant and his teenage daughter, who died in a helicopter crash on January 26, 2020.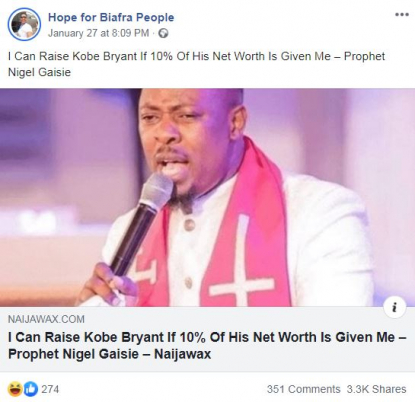 A screenshot taken on January 31, 2020 showing a post which claims Ghanaian preacher said he could resurrect Kobe Bryant if given 10 percent of his wealth
The story originated from a satirical website
AFP analysed the source codes of websites that posted the story and found the earliest version was published by News Bulleting on January 27, 2020 -- less than 24 hours after the news of Bryant's death rippled across the world.
The website's disclaimer states: "News Bulleting is a satire news and humor website. All references, names and marks or institutions in this website are used as contextual elements, like in any novel or science-fiction story."
A screenshot taken on January 31, 2020, showing the disclaimer on the satirical website
Shortly after it was first published on News Bulleting, the story began circulating as real news on news platforms across the continent. We archived some posts from Nigeria here, here, here and here. The same story has also spread via newspapers and blogs in Kenya, archived here, here, and here. In Zambia and South Africa, the claim has also been presented as genuine.
Church threatens to sue
Gaisie is a real-life pastor famous for giving controversial sermons but has denied making any such prophecy about Bryant. His Prophetic Hill Chapel issued a statement threatening to sue those seeking to "ridicule and tarnish" the preacher's reputation.
"For the avoidance of doubt and the legal department of the church has been activated and any publication or utterance made by any person to ridicule and tarnish the unblemished reputation of the Great Prophet shall be met with proportionate and plausible force available," the statement reads.
The pastor also published Facebook posts warning against the false claim.
A screenshot taken on January 31, 2020 of a post published on the pastor's Facebook account