Forbes has not ranked five Nigerians among world's 10 wealthiest pastors
Multiple social media posts claim that American business magazine Forbes had ranked five Nigerians among the 10 richest pastors globally. But Forbes told AFP Fact Check it has not published such a list. The claim is a misinterpretation of an old ranking published on a now-defunct website.  
"According to Forbes, of the ten (10) richest pastors in the world, five are Nigerians," reads the caption on a post by HistoryVille, a Facebook account that highlights historical events, particularly in Nigeria.
Screenshot taken on September 1, 2020, showing the misleading Facebook post
The post has been liked more than a thousand times since being published on August 23, 2020.  It emerged a few weeks after a page named George Udom published the same claim. The account was a key subject in this previous debunk by AFP Fact Check.
The claim has also circulated in Ghana and Nigeria since 2018. Online news sites GhanaWeb and Yabaleft published the same list purportedly released by Forbes.
False claim
But the claim is false; Forbes did not release any list on the 10 richest pastors in the world.
AFP Fact Check traced the claim to a ranking of the world's richest pastors published by online lifestyle magazine Richest Lifestyle. Although the website is no longer accessible, a version is still available on the online archiving platform Wayback Machine.
In 2014, Richest Lifestyle published a list of the "top 10 richest pastors in the world", saying its ranking was based on information provided by the Celebrity Net Worth website and Forbes.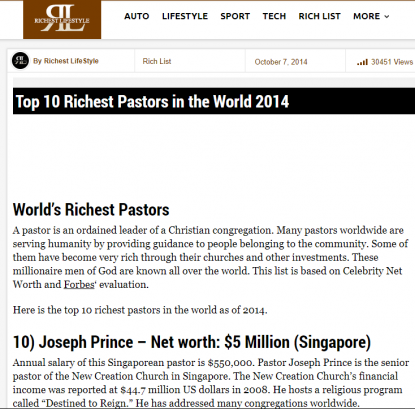 Screenshot taken on September 1, 2020, showing the publication
That article linked to this 2011 Forbes story about five of Nigeria's richest pastors. The Forbes journalist said the list was based on "conservative estimates of their fortunes" following an investigation of the "assets of some of Nigeria's most prominent pastors".
Importantly, Forbes does not list the world's richest pastors or compare the Nigerian preachers with their colleagues globally.   
Forbes spokeswoman Laura Brusca told AFP Fact Check that the only ranking on its website to do with Nigerian pastors was the one from 2011. "We looked into this further. The only list on Forbes.com with this information is from 2011," said Brusca.
Forbes Africa managing editor Renuka Methil confirmed the website had not updated the list since then.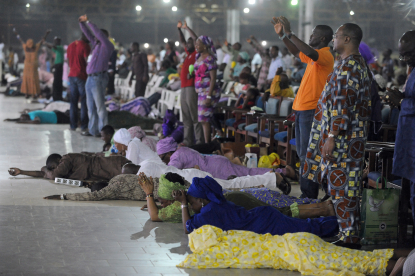 Christian faithfuls gathered to pray into the New Year at the Redemption Camp of Redeemed Christian Church of God (RCCG), a homegrown Pentecostal denomination and one of Africa's fastest-growing religious movements. (Photo by PIUS UTOMI EKPEI / AFP)
Nigeria is a religious country with several megachurches, where tens of thousands of worshippers gather. The actual net worth of pastors who lead the churches is a big topic in Africa's most populous country where half of the residents are living in extreme poverty, according to the world poverty clock.