This footage shows a tourist killed by an elephant in Thailand
Footage of a man being grabbed and thrown to the ground by an elephant has been shared in multiple Facebook posts, which claim it shows a tourist being attacked in provincial Sri Lanka. The claim is false: the video actually shows an elephant attack in Thailand in April 2021. The man died from his injuries, local media reported.
The video, which features graphic images of the attack, was shared in this Facebook post published on April 25, 2021. 
"In Kandalama Sri Lanka tourist went to feed an wild elephant was attacked and killed (sic)," the caption reads.
Kandalama is a village in central Sri Lanka that is popular with tourists due to its forests, reservoirs and luxury hotels.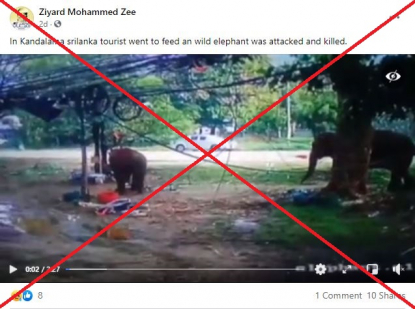 Screenshot of the Facebook post captured on April 29, 2021
The footage shows a man approaching an elephant and holding out his hand. The animal strikes him with its trunk, flipping the man onto his back, before pinning him down.
The video was shared in various posts alongside claims it was filmed in Kandalama, Sri Lanka, including here and here on Facebook and here on YouTube.
The clip has also been shared on WhatsApp alongside an identical claim. 
Screenshot of the Youtube clip that claimed the visuals feature an incident in Kandalama, Sri Lanka
However, the claim is false. The footage actually shows an elephant attacking a tourist in April 2021 in Thailand.
A reverse image search of the video's keyframes using the InVid-We Verify tool led to this DailyMotion video published on  April 16, 2021. 
The video features a segment of a news report from  Thai news agency MCOT. 
Screenshot of the MCOT news segment uploaded on Daily Motion
The footage used in the misleading posts can be seen from the 0:57 - 1:43 mark in the Thai video.
Below is a screenshot comparison of keyframes from the misleading post (L) and the DailyMotion video (R):
Screenshot comparison of the keyframes of the misleading post (L) and the DailyMotion video (R)
"The incident happened when elephant Nong Cherry hurled victim Khun Chayun, a specialised public sanitary officer in Nakhon Ratchasima [a province in Thailand]," the presenter says.
"He was traveling with his family during the Songkran holiday. In the morning when he was buying groceries, he walked past the spot where people can feed the elephant. He was carrying sugarcanes and grass to feed the elephant, which unexpectedly attacked and killed him."
Songkran is the traditional Thai New Year. 
Thai newspaper Siam Rath also reported the attack on April 15, 2021, quoting local officials who said the man had died from his injuries.
AFP contacted a Sri Lankan police spokesperson and a local journalist, Kanchana Kumara, who both said there had been no reports of an elephant attack in Kandalama, the Sri Lankan village.