This footage has circulated in reports about unattended bodies at a hospital in south India in 2013
A video has been viewed tens of thousands of times in multiple Facebook posts alongside a claim it shows COVID-19 victims at a hospital in the south Indian city of Hyderabad. The claim is misleading; the footage was published in reports about unclaimed bodies at a Hyderabad hospital in 2013, more than six years before the novel coronavirus pandemic.
The one-minute and 43-second video was published on Facebook here on June 24, 2020. The video has been viewed more than 66,000 times.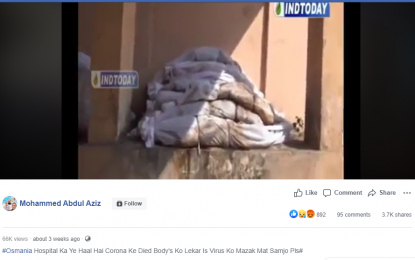 Screenshot of misleading Facebook post
Osmania Hospital is a government-run hospital and medical college in Hyderabad, the capital of the state of Telangana.
The footage includes a watermark of a logo that reads: "INDTODAY".
The video was also shared on Facebook alongside a similar claim here, here, here and here.
The claim, however, is misleading.
Keyword Google searches found that Ind Today, a Hyderabad-based news agency, published the footage on its YouTube channel here on December 25, 2013.
"Unclaimed bodies pile up at OGH mortuary | Hyderabad Osmania General Hospital," reads the video's caption.
In response to the misleading posts, Ind Today published this statement on its Facebook page on June 26, 2020.
"The video showing several piles of dead bodies, kept for days together in the morgue, is actually six year old. It's YouTube video published on December 25, 2013," the post reads. 
Ind Today also urged the public "not to mistake it as the fresh video and also not to panic."
The footage was also published by other regional Indian media outlets in 2013; including ETV Andhra Pradesh here.