Filipino pool champion Efren Reyes confirms he is alive after death hoax report
Multiple Facebook posts shared repeatedly in early January 2021 claim Filipino pool champion Efren Reyes had died at the age of 65. The claim is false: in response to the hoax reports, Reyes told AFP on January 19, 2021 that he was "still alive". The doctored screenshot in the Facebook posts has been manipulated from a July 2017 report about Reyes discussing his intention to retire from professional pool.
The photo was shared in this Facebook post on January 16, 2021. 
It purports to show a screenshot of a report by Philippine news organisation ABS-CBN. The headline reads: "Goodbye, 'The Magician' Bata Reyes. Dies at the age of 65."
Reyes is a former pool champion who earned the moniker "magician" for his ability to make seemingly impossible shots. He is widely regarded as among the world's finest pool players, according to this AFP profile published in 2019.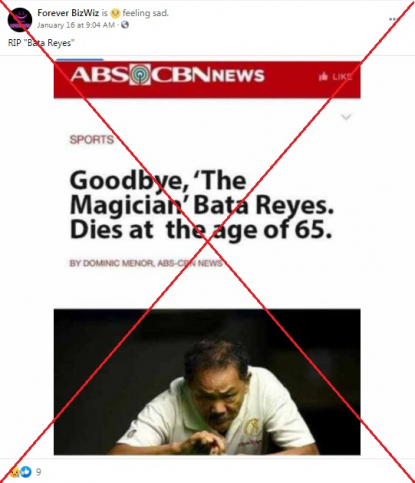 A screenshot of the misleading post, taken on January 19, 2021
An identical photo was also shared on Facebook here, here and here alongside a similar claim that Reyes had died in January 2021.
The claim is false.
'I'm still alive'
In response to an inquiry about his health by AFP, Reyes said in a text message on January 19, 2021: "Not true. I'm still alive."
Reyes' daughter took to Facebook to denounce the hoax reports, sharing this post on January 16, 2021.
The post's Tagalog-language caption translates to English as: "To those who are sharing and reading the news that my father is dead, don't believe it, it's just FAKE NEWS..
"GOD TAKE CARE OF YOU WHO SPREAD SUCH NEWS.
"#NotFunny
"he just finished having breakfast.."
One video shared in Reyes' post shows her father watching basketball on television. He can be heard shouting: "I'm okay!"
Doctored report
Reverse image searches and keyword searches on Google found the photo in the misleading posts partly corresponds to this ABS-CBN news report published on July 13, 2017. The report's headline has been doctored to include different text in the misleading posts. 
The ABS-CBN report states in part: "Goodbye, 'The Magician'? Bata Reyes eyes retirement".
"The rising cost of joining tournaments, the sport's evolving playing style, and his age are making it easier for Efren 'Bata' Reyes to walk away from billiards.
"Reyes flew in recently from the US, where he was due to play in several competitions until August, but he cut his trip short saying he wanted to take a break."
Below is a screenshot comparison of the doctored screenshot (L) and the ABS-CBN report (R):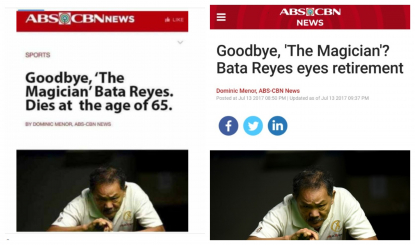 Screenshot comparison
ABS-CBN said its 2017 report had been doctored in the misleading posts in this statement issued on January 16, 2021. It reads in part: "ABS-CBN's story was altered, and its logo and byline were used to spread false information about Efren 'Bata' Reyes."
The statement linked to this news report which features a video of Reyes quashing rumours of his death. 
Reyes settled for bronze in the 2019 Southeast Asian Games. He has said he remains uncertain of whether he will participate in the next regional tournament scheduled to be held in Vietnam in 2021, CNN Philippines reported here.