False COVID-19 hotline number shared on Facebook in Ontario
A notice shared more than 15,000 times on Facebook advises Ontario residents to call 811 to arrange a home visit by medical specialists if they are showing novel coronavirus symptoms. This is false; 811 is not an official public health hotline in Ontario, and the provincial ministry of health is not organizing home visits, a spokeswoman told AFP.
"Medical specialists will be arranged to do home visit and inspection," according to the advisory shared in this Facebook post, which urges Ontario residents to call 811 for novel coronavirus-related medical assistance instead of going to hospitals or family doctors.
Screenshot of a Facebook post taken on March 16, 2020
The official-looking notice, complete with the Ontario Health agency logo, was shared both by individuals and in large Facebook groups in the province, such as Russians in Waterloo, the Arab community in London, and a group affiliated to an Indian-Canadian TV channel.
These posts are false. "811 is not the number to call for Ontarians experiencing COVID-19 symptoms," Hayley Chazan, a spokeswoman for the Ontario Minister of Health, told AFP by email.
Using two different Ontario phone numbers, AFP did not receive an answer when calling 811.
The 811 number is a direct line for health advice from public agencies in British Columbia, Alberta, Saskatchewan, Quebec, Prince-Edward-Island, New Brunswick, Nova Scotia, and Yukon, which may explain the confusion.
In Ontario, residents can ask for advice by calling Telehealth Ontario at 1-866-797-0000. This number is also mentioned in the Facebook posts, but only after the incorrect 811 number.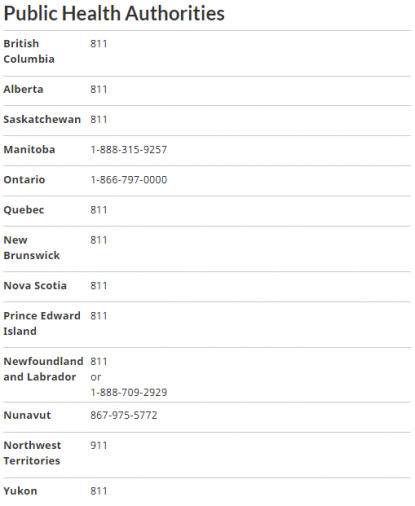 Screenshot of a Canadian government agency web page on March 16, 2020
While this number provides health advice by phone, it will not dispatch in-home care for callers, as the online posts suggest. 
Chazan told AFP that individuals who meet the criteria for COVID-19 using the province's Ministry of Health's self-assessment tool (available here) should contact their primary care provider, Telehealth Ontario, or their local public health unit. Patients will then be instructed on how to self-isolate or be referred to the appropriate level of care. 
The Ontario Ministry of Health advises people experiencing difficulty breathing or other severe symptoms to call 911. 
According to the Public Health Agency of Canada, 324 cases had been confirmed in the country as of March 16, 2020, and one death was reported in the country. 
AFP Fact Check has investigated more than 115 false and misleading claims about the novel coronavirus.