False claims circulate online following unrest in Nigeria's southeast
Various images have been shared online in Nigeria alongside false claims that they show clashes between national troops and a local militia in the country's southeastern region last week. AFP Fact Check rounds up some of the viral posts spreading disinformation amid the ongoing turmoil.
Nigeria is battling unrest in different forms, including a decade-long Boko Haram insurgency, banditry and kidnapping, which has resulted in the creation of regional security outfits to address the violence in Africa's most populous nation. 
Tapping into the trend, the leader of Nigeria's proscribed separatist movement Indigenous People of Biafra (IPOB), Nnamdi Kanu, formed the Eastern Security Network (ESN) last December to protect the region "from the ravages of Fulani terrorism and extra judicial killings".
Fulani is an ethnic group in northern Nigeria known for herding their cattle across the country. The herders are often accused of being responsible for the murders and kidnappings in Nigeria's south where their cattle mostly graze during the dry season.
An image of a Fulani herding boy in Nigeria's northwestern Kaduna state (Photo: Stefan HEUNIS / AFP)
Nnamdi had previously released footage and photos showing armed ESN members undergoing military drills in a clearing surrounded by forest.
But since the onset of repeated clashes that erupted between the Nigerian army and the ESN on January 22, 2021 in Orlu, which left at least one person dead as reported by AFP, pro-Biafran social media accounts have spread false claims about the violence online.
Orlu is located in Nigeria's southeast, a region that has long been a hotbed for separatist groups, and tensions between the federal security forces and the indigenous Igbo population have been high. 
We look at how posts on social media are stoking the fires with disinformation. 
1. Soldiers in training
First among the numerous images shared out of context is an old photo that accompanies this Facebook post claiming to show Nigerian soldiers looking for ESN members in the bush.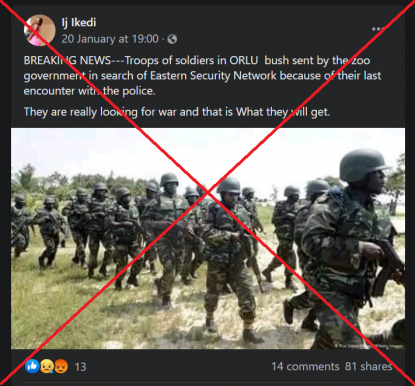 Screenshot taken on January 29, 2021, showing the false Facebook post
"They are really looking for war and that is what they will get," reads the final part of the caption.
However, this is an AFP photo from 2013 when Nigerian troops participated in a three-week joint military training exercise with special forces specialising in fighting maritime criminals drawn from the United States, Netherlands, Britain and Spain.
An image showing Nigerian troops in training, used out of context in a false claim on Facebook (Photo: Pius Utomi EKPEI / AFP)
2. Kenyan troops at terror attack site 
An image showing armed soldiers walking away from a truck was shared in multiple social media posts, including this tweet with more than 780 shares since January 25, 2021.
Screenshot taken on January 29, 2021, showing the false tweet
"Right this Moment in Orlu IMO State, Men in Nigeria State Uniforms are in Nigerian Army Hiluxes(Buses) going streets to street killing Innocent Nigerians in their homes (sic)," the tweet reads.
However, multiple reverse image searches led to the original version of the image in the archives of the news agency Associated Press (AP).
Screenshot taken on January 29, 2021, showing the photo on AP's website
According to AP, the image actually shows Kenyan troops on patrol near the Westgate Mall in Nairobi, the scene of a terrorist atrocity days before.
It was taken on September 24, 2013, when "Kenyan security forces battled al-Qaida-linked terrorists in an upscale mall for a third day Monday in what they said was a final push to rescue the last few hostages in a siege that has left at least 62 people dead."
3. Old images of soldiers and ESN combatants
A set of four photos was also shared in numerous posts, including this one on Facebook, claiming to show ESN fighters "from the bush" repelling military attacks.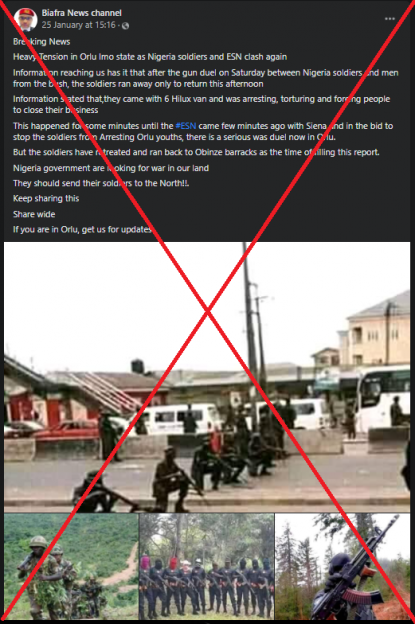 Screenshot taken on January 29, 2021, showing the false Facebook post
But, in reality, none of the four images captures the recent clashes in Orlu.
The first image showing armed military men kneeling side-by-side on a highway has been circulating online for at least four years, while the earliest version of the other photo showing troops camouflaged with grass and climbing a mountain accompanies this 2003 report.
The third image of fifteen masked men holding what appears to be rifles was previously published in a discussion thread on Nairaland on December 13, 2020. 
Finally, the fourth one was found in this publication from December 22, 2020, about the Eastern Security Network and depicts a training exercise, not a combat situation. 
4. Soldiers invading Orlu?
Two photos showing troops on patrol were shared in this Facebook post with the claim that they capture the moment Nigerian soldiers invaded communities in Orlu "searching for Eastern Security Network".
Screenshot taken on January 29, 2021, showing the false Facebook post
However, AFP Fact Check found that the photos are old and unrelated to the recent clashes.
A Google reverse image search found that the first image showing soldiers marching in formation was used in this report by The New Humanitarian (named IRIN at the time) on March 27, 2015.  
It actually shows Nigerian troops on the streets of the capital Abuja ahead of elections, according to the publication's report.
Meanwhile, the second image was found in the archives of the news agency Reuters. The photo, taken on June 25, 2014, shows Nigerian soldiers cordoning off a road leading to the scene of a blast at a business district in Abuja.
5. Soldiers en route to Orlu?
A Facebook post that was published with an image of military vehicles has been shared more than 200 times alongside the claim that it shows the moment Nigerian troops arrived in a town near Orlu.
Screenshot taken on January 29, 2021, showing the false Facebook post
"They blocked the Highway, searching passengers phones, personal effects, while subjecting many to torture for doing nothing (sic)," the post reads.
However, the photo in question was first shared by the Nigerian Army in October 2020 during a tour by the then-army chief to a military facility in Kaduna, northwestern Nigeria.
6. Screenshot from old footage
A blurry image showing uniformed men beating a civilian also featured among photos claiming to document military attacks in Orlu. 
Screenshot taken on January 29, 2021, showing the false Facebook post
But, again, using Google reverse image search, AFP Fact Check found that the photo was taken from existing video footage unrelated to the Orlu clashes.
The earliest version of the video clip found on YouTube was published by Sahara TV on February 25, 2017, when Nigerian soldiers allegedly caught a disabled man with camouflage gear and assaulted him. 
7. Aircraft on military drills in Abuja
Several social media posts published a photo of an aircraft with camouflage markings, claiming this showed security forces patrolling Orlu and searching for ESN members.
Screenshot taken on January 29, 2021, showing the false Facebook post
However, the photo is not only old, but it was also taken in a different region in Nigeria.
Several searches led AFP Fact Check to the source of the image on the Nigerian Airforce's Twitter page. It was shared, alongside other images of military aircraft, on September 17, 2018, during rehearsals ahead of Nigeria's October 1 Independence Day celebration in Abuja.
A similar claim was made with this image of a chopper which AFP Fact Check traced to another tweet from the Nigerian Airforce on December 5, 2019, showing a training session in a different location.
GOVERNOR OYETOLA COMMENDS NAF EFFORTS IN COMBATING INSURGENCY, AS IT CONDUCTS EXERCISE 'BUJE EKUN' IN IPETU-IJESHAhttps://t.co/xJfByf4jlQ pic.twitter.com/QDC6Y9e6bt

— Nigerian Air Force (@NigAirForce) December 5, 2019