False claim that Covid-19 is not real misattributed to US professor
Social media posts and an online article claim a Cornell University professor said seven university labs are suing US health authorities for fraud after determining that Covid-19 does not exist. This is false; Covid-19 is a contagious disease that has killed more than two million people worldwide, Professor Robert Oswald described the comments attributed to him as a "fabrication," and the universities identified by name said they are not involved in such a lawsuit.
"University Labs Suing CDC for Covid Fraud: Virus does not exist and is fictitious," says the headline of an article screenshotted and shared on Facebook on January 5, 2021, referring to the US Centers for Disease Control and Prevention. 
The article claims that according to "Rob Oswald, PhD in virology and immunology" at Cornell, his university, Stanford and other California university labs "found C19 imaginary, fictitious, not a virus and were suing the CDC for Covid fraud."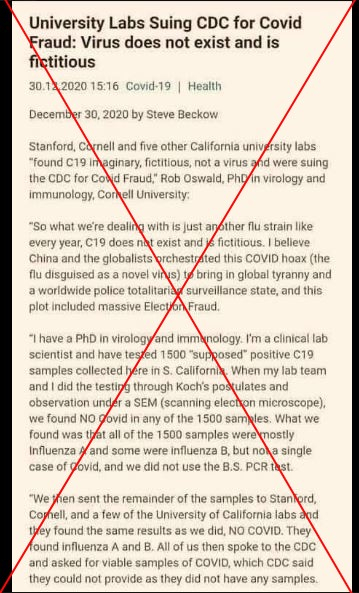 A keyword search for the headline in Google reveals that the December 30, 2020 article was published on the website IntoTheLight.news. It is no longer available, but an archived version of the page can be seen here.
After removing the article, the site claimed the information came from another source, GoldenAgeofGaia. That article was shared on Twitter, but it has also since been removed. An archived version can be found here.
Another longer text post, also attributed to "Rob Oswald," claimed that "what we're dealing with is just another flu strain like every year, COVID 19 does not exist and is fictitious."
Screenshot of a Facebook post taken on January 19, 2021
But when contacted by AFP, Robert Oswald, a professor of molecular medicine at New York's Cornell University College of Veterinary Medicine, flatly denied writing the post.
"I had nothing to do with this ridiculous post. It is a fabrication by an unknown person," he said by email.
He also posted a statement on his faculty page under the research interests section which says, "COVID-19 is real. Any Facebook post that suggests otherwise is a hoax and is not true. Wear a mask, practice social distancing, and get the vaccine when it becomes available."
No lawsuit
Both Cornell and Stanford University dismissed claims that they are involved in a lawsuit against the CDC.
E.J. Miranda, Senior Director of Media Relations at Stanford University said of the posts: "This is false."
Similarly, Abby Butler, a Cornell University spokeswoman, said via email that any claims that "Cornell University is suing the CDC for fraud, are not accurate."
Virus isolated
The claims circulating online also falsely state that the genetic code for SARS-CoV-2, the virus that causes Covid-19, has never been isolated.
"There is no question that SARS-CoV-2 exists and it was isolated in China early in January and was fully characterized and its full genome was deposited to the databases on January 10," according to Heba Mostafa, an assistant professor of pathology at Johns Hopkins Medicine.
The genetic code is published in GenBank, the US National Institutes of Health database of genetic sequences that includes all the DNA sequences that are publicly available.
A March 2020 publication in Nature also confirmed that SARS-CoV-2 was the seventh coronavirus known to infect humans.
Not just a bad flu
Both Covid-19 and the flu cause respiratory disease and both are spread via small droplets from the nose and mouth.
But Dr Michelle Murti of Public Health Ontario explained that the reproduction number, or the average number of people that one infected person will pass the virus to, is lower for influenza than for Covid-19. 
This is why precautions, including social distancing and mask-wearing, are essential to stopping the spread of Covid-19. 
According to Alberta Health Services there is also a higher risk of "severe disease" from Covid-19 than from seasonal influenza. 
A study published in December 2020 in the medical journal The Lancet examining data from France confirms the risk.
It found that in-hospital mortality for Covid-19 patients in March and April 2020 was 16.9 percent, compared to 5.8 percent for patients with influenza from a comparable time period.
It also said that the median length of stay in the intensive care unit for Covid-19 was twice as long as for influenza.
Widespread falsehood
The claims are part of a pattern of distrust and skepticism about the severity of Covid-19 that AFP Fact Check has identified in Canada and the United States. 
According to a search using the social media monitoring tool CrowdTangle, variations of the claims were shared publicly across at least 64 Canadian pages and groups since December 27, 2020, including here, as coronavirus cases continued to climb across the country.
Screenshot of a CrowdTangle search taken on January 12, 2021
Additional posts making the claims have been circulating in English since at least December 8, including a post from a "health freedom" group in the US and posts in German, Czech, Slovak, Portuguese and Spanish.
AFP Fact Check has debunked hundreds of false and misleading claims about the novel coronavirus, available here.