False claim circulates that Pakistani singer was shot dead after transgender woman with same name murdered
A photo of Gul Panra, a popular Pakistani Pashto singer, has been shared multiple times on Facebook and Twitter alongside a claim that Panra was shot dead in the Pakistani city of Peshawar. The claim is false; Panra is alive and well; the posts circulated online after a transgender woman by the same name was murdered in Peshawar.
The claim and photo were published on Facebook here on September 10, 2020.
The post's Urdu caption translates to English as: "Sad news. Unknown people murdered Gul Panra in Peshawar."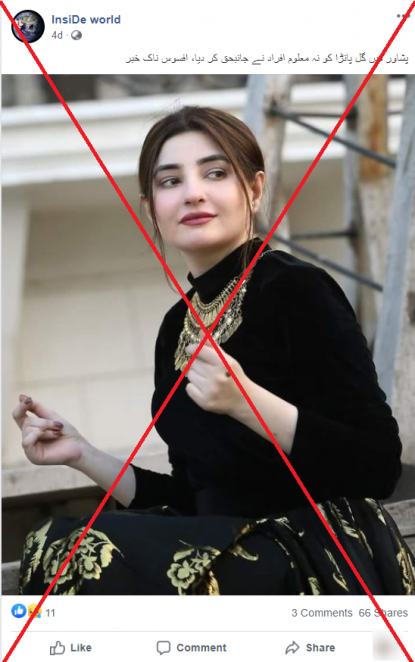 A screenshot taken on September 15, 2020, of the misleading Facebook post
The same photo of Gul Panra was also posted alongside similar claims on Facebook here and here, and on Twitter here, here and here. 
However, the claim is false.
"I am alive and well by the grace of Allah," Panra told AFP by phone on September 15, 2020. "Just for getting likes and shares, people are posting my photos with unrelated news on social media, which is sad."
The photo being shared in the false social media posts was taken from Panra's official Instagram account here.
Below is a screenshot comparison of the photo in the misleading post (L) and Panra's original post on Instagram(R):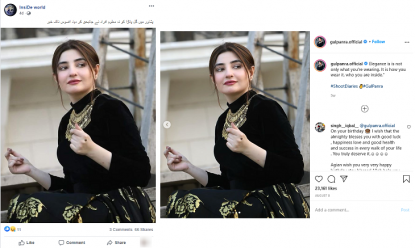 A comparison of screenshots of the the misleading post (L) and the Panra's original post (R)
False claims about Panra's death circulated a day after a transgender woman also named Gul Panra was killed in Peshawar on September 9, 2020, as AFP reported here. 
"A group of four transgender (women) were returning home after performing at a wedding function when unidentified gunmen opened fire on their vehicle, killing Gul Panra on the spot," said Hassan Jehangir Wattoo, a senior police official in Peshawar, according to AFP's report. 
Dawn, a Pakistani English-language newspaper, also reported on the murder here. 
On September 14, 2020, local police took to Twitter to announce that "the main suspect in the murder of transgender (woman) Shakeel aka Gul Panra has been arrested."
The tweet also carries an image featuring a photo of police with the detained suspect and a seperate photo of the victim, who does not resemble the singer Gul Panra.
Below is a screenshot comparison the image in the police tweet (L) and a photo of singer Gul Panra from her official Instagram account (R):
A comparison of screenshots of image in the police tweet (L) and photo of the singer Gul Panra from her official Instagram account (R)