False claim circulates online that Thai court postponed verdict on 2014 protest leaders
Multiple Facebook and Twitter posts shared in February 2021 claim the Thai Court of Justice postponed its verdict on a group of protest leaders charged with sedition over anti-government demonstrations staged in 2014. The claim is false: on February 24, 2021, Bangkok's Criminal Court found three current government ministers guilty of sedition over the 2014 protests. Following the protests, Premier Prayut Chan-O-Cha led a coup to establish a military junta, removing incumbent Prime Minister Yingluck Shinawatra from power.
This claim was posted to Facebook here on February 24, 2021.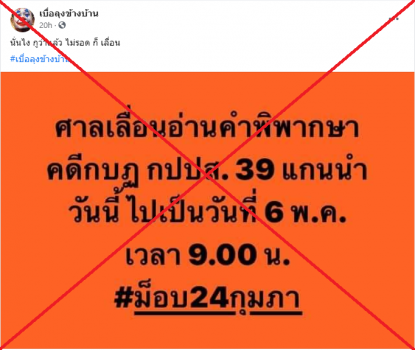 Screenshot of misleading Facebook post, taken on February 25, 2021
The Thai-language text in the image translates to English as: "Court postpones the verdict reading for the rebel case of 39 PDRC protest leaders, from today to May 6 at 9 am #Feb24Mob."
The post's caption reads: "There I thought so, either they walk or it is postponed."
PDRC refers to the People's Democratic Reform Committee, a now-defunct protest movement founded in 2013 that aimed to counter the influence of ex-premier Thaksin Shinawatra.
Following several consecutive months of protests between November 2013 and May 2014, Prayut Chan-O-Cha, a former army chief, staged a coup, replacing Prime Minister Yingluck Shinawattra.
Similar claims was shared on Facebook here, here, and here.
The claim is false.
On February 24, 2021, Bangkok's Criminal Court's found three current government ministers guilty on charges of sedition, as AFP reported here.
The group included PDRC founder Suthep Thuagsuban and three ministers: Digital Economy Minister Buddhipongse Punnakanta, Education Minister Nataphol Teepsuwan and Deputy Minister of Transport Thaworn Senniam.
Following the guilty verdict, they will immediately be stripped of their posts, according to Thailand's constitutional law.
The Criminal Court's press release annoucing the verdict on February 24, 2021 can be found here.
Thailand's Court of Justice also refuted the false claim about the verdict being postponed in a Facebook post published here on February 24, 2021.
"This claim is inaccurate. Today is the first verdict hearing, which is currently underway. There is no postponement," part of the post reads.
Screenshot of the Facebook post by Court of Justice's Facebook PR page, taken on February 25, 2021