Fake 'roadmap' for India's plans to relax coronavirus lockdown circulates online
Multiple Facebook posts have shared a purported roadmap for the Indian government's plans to ease a nationwide coronavirus lockdown alongside a claim that it shows an official government announcement. The claim is false; India's official Press Information Bureau said the government had not release any such plan and labelled the posts "fake news"; the dates included in the purported roadmap corresponded with the Irish government's "roadmap for reopening society and business" during the coronavirus pandemic.
The guidelines, which detail a five-phase reopening plan, were published on Facebook here on May 14, 2020.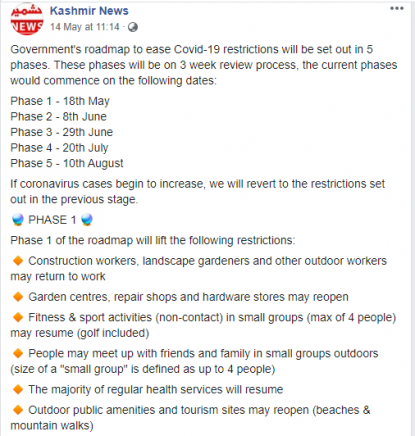 Screenshot of misleading Facebook post
The post reads in part: "Government's roadmap to ease Covid-19 restrictions will be set out in 5 phases. These phases will be on 3 week review process, the current phases would commence on the following dates:
"Phase 1 - 18th May
"Phase 2 - 8th June
"Phase 3 - 29th June
"Phase 4 - 20th July
"Phase 5 - 10th August
"If coronavirus cases begin to increase, we will revert to the restrictions set out in the previous stage."
India's nationwide lockdown has been extended multiple times since it was first imposed on March 24, 2020. On May 31, India's Ministry of Home Affairs announced a further extension at least May 31, 2020.
The same purported government plan was also shared on Facebook here, here, here, here and here with a similar claim.
The claim is false. 
The Indian government's official Press Information Bureau dubbed the purported guidelines as "fake news" in a tweet on May 12, 2020.
"This roadmap is not made by our Government, but by that of some other country," the tweet added.
Claim: A so-called 3-week, 5-phase "roadmap", purportedly made
by the Government, to ease #COVID19India restrictions is being circulated on Whatsapp.#PIBFactCheck: #Fake news.This roadmap is not made by our Government, but by that of some other country pic.twitter.com/20duABJP9V

— PIB Fact Check (@PIBFactCheck) May 12, 2020
The dates in the misleading posts corresponded with this announcement by the Irish government on May 18, 2020.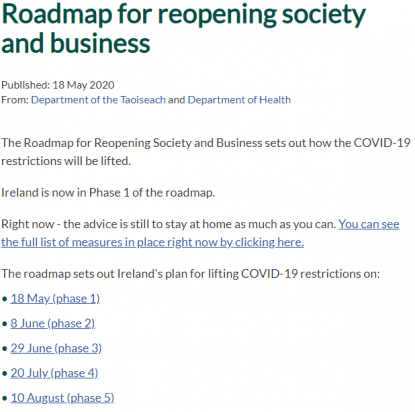 A screenshot of the Irish government's announcement