Facebook posts share misleading graphic claiming that Sri Lankan opposition leader blamed Sinhala community for suicide bombings
A graphic image showing a screenshot of Sri Lankan opposition leader Anura Kumara Dissanayake speaking on a political talk show has been shared in multiple Facebook posts. The graphic includes a purported quote in which Dissanayake blames Sri Lanka's majority Sinhala community for minorities becoming suicide bombers. The claim, however, is misleading: while Dissanayake urges politicians to protect minorities so that they do not turn to violence, at no point during the interview does he blame the Sinhala community for pushing people to become suicide bombers.
The graphic showing Dissanayake, who is the leader of the opposition Janatha Vimukthi Peramuna (JVP) party, was published on Facebook here on March 23, 2021. The post has been shared over 1,200 times and has since been deleted.  
The image shows Dissanayake speaking on Hiru Salakuna, a Sri Lankan political talk show. 
The graphic's Sinhala-language text translates to English as: "It was the Sinhala Buddhists who pushed the Tamils and Muslims into becoming suicide bombers / Anura at the Hiru Salakuna program today"
The Facebook post's caption translates as: "He too sounds like a member of an extremist organisation. He must be arrested. He is the other one who spreads extremism. Losers! What crime did those innocent victims commit to die like that from the Easter attacks? Your lot is the worst. .."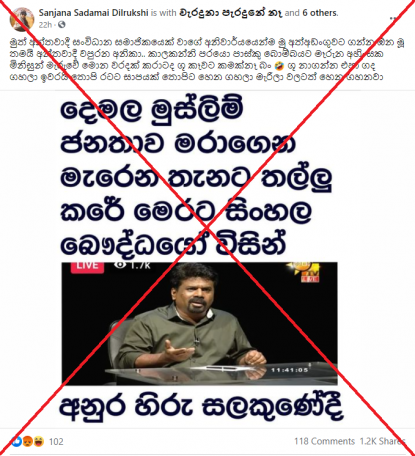 Screenshot of the Facebook post captured on March 24, 2021
The graphic was also published alongside similar claims on Facebook here, here and here.
The claim, however, is false.
A review of the entire 114-minute discussion on the talk show found that at no point does Dissanayake make any such remarks about the majority Sinhala community pushing minorities towards becoming  suicide bombers. 
The programme, which aired on March 22, 2021, can be seen in full on the Hiru network's Youtube channel here. 
Dissanayake does make brief comments on communal and ethnic rifts in Sri Lanka from the full video's 17:22 to 20:18 mark. 
After reaffirming the JVP's support for Sri Lanka's Sinhala-Buddhist culture, Dissanayake responds to a question about his party not critisizing Tamil and Muslim extremism. 
Dissanayake responds by criticizing politicians for staying "hidden behind Buddhism" and says politicians must protect minorities. 
He adds that since the likelihood of another armed political struggle is low, politicians should "stand by the justifiable rights that minorities struggle to achieve instead of demonizing them and pushing them to take up arms once more."
At no point does he blame the Sinhala community for pushing people to become suicide bombers.