Fabricated news report falsely claims South Korea PM threatened to arrest people who refuse Covid-19 vaccination
A fabricated news report shared repeatedly on Facebook states South Korea's Prime Minister threatened to arrest citizens who refuse to receive a Covid-19 vaccination. The report, however, is not a genuine article from a South Korean media outlet. A spokesperson for the Prime Minister's Secretariat told AFP on February 17, 2021, that he made no such comments about Covid-19 vaccinations. The South Korean media outlet that was imitated in the Facebook posts said it did not publish the purported report.
The image was shared on Facebook here on February 17, 2021.
Screenshot of the misleading Facebook post, captured on February 17, 2021.
The Korean-language title translates in English as: "The inoculation of Covid-19 vaccines will begin on the 26th of this month. Those who refuse will be arrested, says the PM Jung."
The post shared a screenshot of what misleadingly appears to be a news report published by South Korean daily Financial News on February 14, 2021. 
The purported report translates to English in part as: "South Korea will begin the inoculation against Covid-19 from February 25. Prime Minister Chung Sye-kyun said that the country would start the mandatory vaccination programme against Covid-19. Those who refuse would be arrested."
The same image was also shared on Facebook here, here and here.
The posts, however, do not show a genuine news report. 
A spokesperson for the South Korean Prime Minister's Secretariat told AFP he made no such comments.
"He didn't make [any] such comment and the claim [on Facebook] is false," the spokesperson said during a phone interview on Februray 17, 2021.
In response to the misleading posts, Financial News warned it would take legal action against anyone sharing the hoax report.
A statement published on its website on February 16, 2021, reads: "We want to inform you that we had never reported that South Korea would arrest those who refuse to take Covid-19 vaccines.
"Recently, however, some people have maliciously doctored our report and distributed it.
"We will seek civil and criminal actions over dissemination or citation of false information."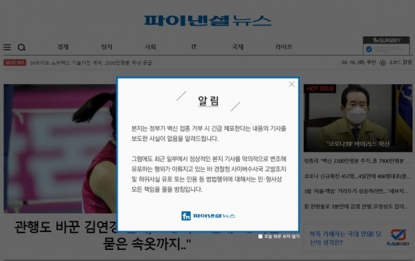 Screenshot of the statement from Financial News, taken on February 16, 2021.
The false claim that South Korea threatened to arrest those who decline a Covid-19 vaccination is not supported by any credible source or media report, as of February 17, 2021.
AFP found no official statements to support the false claim on the website for the Prime Minister's Secretariat; the Presidential Blue House; and the Ministry of Health and Welfare.