Empty body bags were used in protests and not part of 'fake' pandemic plot
Facebook posts shared thousands of times accuse authorities of lining the streets with empty body bags in a bid to fool people about the "fake" novel coronavirus pandemic. But the claim is false: the photo was taken at a US protest against the government's handling of the novel coronavirus crisis.
The photo has been shared hundreds of times in Facebook posts suggesting that the pandemic is "fake" or "lies", as the woman photographed apparently could not have been "holding a dead body with one hand".
This South African Facebook post shared more than 490 times since May 30, 2020, shows a row of what appear to be body bags, with a passer-by carrying one of the bags with one hand.
Screenshot of the false claim shared on Facebook, taken on June 5, 2020
"Strong people these health workers for Covid 19... they carry the dead bodies with one hand (sic)," the post reads.
We've also archived other English-language posts here and here.
Similar claims have been circulating in Spanish, Portuguese and Polish, including this post shared more than 4,000 times, as AFP Fact Check Argentina reported. 
Photo of activist protest
A reverse image search of the picture in Google reveals the same picture in this Spanish article, published on May 28, 2020 and attributed to photographer Cristóbal Herrera. "Activists hold a symbolic funeral to protest the reopening of the economy in Florida", the photo caption reads.
AFP Fact Check ran a Google keyword search for "Cristóbal Herrera Florida" and traced his original photograph to the website of the European Pressphoto Agency (EPA) on May 27, 2020, at Torch of Friendship Park in Miami.
"An activist carries bags, representing dead bodies during a symbolic funeral to protest against the economy reopening without Coronavirus relief in the Torch of Friendship Park, in Downtown Miami, Florida, USA, 27 May 2020," the caption reads.
Screenshot taken on June 1, 2020 of the original photo on the website of the European Pressphoto Agency
As echoed in this photograph by AFP, the protest was held to honour the lives lost in the novel coronavirus pandemic and to hold Florida Governor Ron DeSantis and US President Donald Trump accountable for their handling of the health crisis.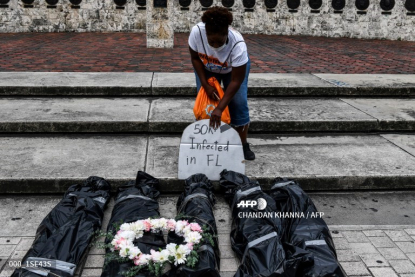 A protester sets up bags representing dead bodies during a funeral procession demonstration by the New Florida Majority (NewFM) against the reopening of Florida, in Miami, on May 27, 2020. (Chandan Khanna / AFP)
Similar staged funeral protests were held elsewhere in the US, including Tampa, Florida, Georgia and Washington, DC.
Translated and adapted by Tendai Dube