Doctored photos falsely show Leni Robredo posing outside detention cell of jailed senator
Photos that purport to show Philippine Vice President Leni Robredo posing outside a detention centre where a senator is being held have been shared hundreds of times on Facebook. But the images have been doctored: they originally showed Robredo posing for a housing project; an image of the jailed senator was digitally inserted onto the original pictures.
The photos have been shared more than 800 times since they were posted here on Facebook on May 5, 2021.
The post's Tagalog-language caption translates as: "Cell #5 is newly painted".
(Screenshot of the misleading post taken on May 8, 2021)
"Cell #5" is a reference to jailed Senator Leila De Lima whose surname in Tagalog means five. 
Senator De Lima is shown in the photos waving behind bars, while Vice President Leni Robredo and a team of people pose in the foreground.
Captions on the Facebook posts suggest the image misled social media users, who appeared to believe it was genuine.
"There shouldn't be any social media in a jail cell right? How come [De Lima's] treated differently?", one person wrote.
"Really shameless...and she's even proud to have her picture taken in jail?" another asked.
De Lima was arrested and detained in February 2017 on charges she profited from illegal narcotics during her time as justice secretary. She denies the accusations as politically motivated by her opposition to President Rodrigo Duterte. 
De Lima and Robredo are both members of the opposition Liberal Party.
Identical photos were also shared on Facebook here, here and here.
However, the pictures have been doctored.
A Google reverse image search found the original photos posted here on May 4, 2021 on Robredo's official Facebook page.
The caption of the photos state they show Robredo and her team during a "hands-on training in painting houses" in Camarines Sur province. 
Below is a screenshot comparison of the doctored photos (L) and the original photos (R):
The photos in the misleading posts had been digitally altered to insert an image of De Lima that was taken by an AFP photographer on February 24, 2017.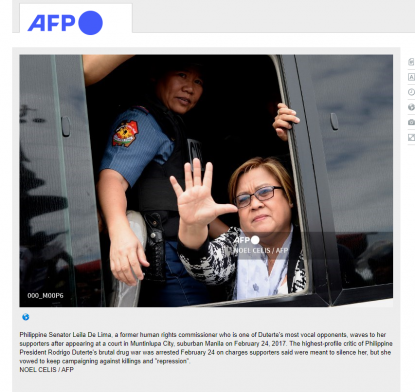 (Screenshot of AFP's photo taken on May 8, 2021)
The doctored photo was also debunked by Philippine fact-checking organisation Vera Files here.