Nigerian separatist's lawyer falsely linked to Labour leader's poll result challenge
An online post in Nigeria claims that a lawyer representing Labour Party leader Peter Obi in his poll result challenge also works for detained separatist leader Nnamdi Kanu. But this is false: Kanu's lawyer Mike Ozekhome is not part of Obi's legal team contesting the results of the February election. However, he is an adviser to Atiku Abubakar, who has also disputed the outcome of the presidential polls that saw him declared runner-up to the winner Bola Tinubu.
"11th May is the court of MNK, Ozekhome is part of @PeterObi legal team, and Obi's election tribunal is on the same date 11th May (sic)," reads a tweet published on May 9, 2023.
A screenshot of the false post, taken on May 12, 2023
Ozekhome is a senior constitutional lawyer and professor in Nigeria. "MNK" refers to Kanu who remains in detention despite a court dismissing various charges against him, among them terrorism.
The tweet was posted by Simon Ekpa, a self-declared leader of the outlawed Indigenous People of Biafra (IPOB). Kanu, however, is considered the de facto head of the organisation.
Ekpa has a history of publishing content sympathetic to IPOB and Kanu. AFP Fact Check has debunked previous false claims.
The post in question has been retweeted more than 1,500 times and received another 1,800 likes.
It was shared elsewhere on Twitter, with people commenting that "Peter Obi is IPOB".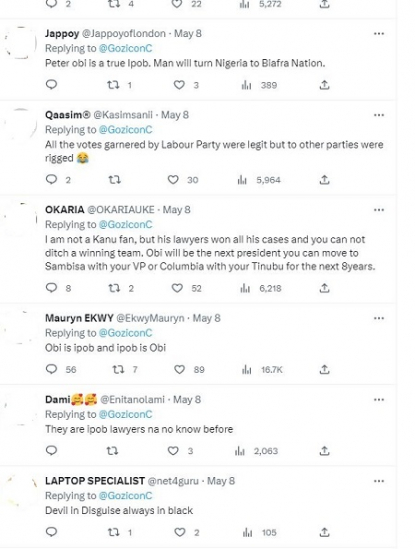 A screenshot showing comments on the false post, taken on May 12, 2023
Obi hails from the same southeastern region where IPOB has widespread support, but he has rebuffed claims linking him to the separatists.
In his tweet, Ekpa also alleged that Kanu's court date clashed with Obi's legal petition against the February 2023 election results, meaning that Kanu would be represented by a junior lawyer, Ifeanyi Ejiofor.
However, Ekpa later posted a correction, noting that Obi's case was set down for the day before Kanu was scheduled to be in court.
Nevertheless, his claim about Ozekhome joining Obi's legal team is false.
Election court
The court ruling on disputes from the presidential elections commenced sitting in Abuja, Nigeria's capital on May 10, 2023, beginning with Obi's petition.
Abubakar's challenge was heard on May 11, 2023 — the same day Kanu appeared in the Supreme Court for his case, led by Ozekhome.
Obi and Abubakar contend that widespread irregularities and rigging tainted the election on February 25, 2023.
INEC has denied any illegal activity, although it acknowledged technical problems with the voting machines.
Abubakar's lawyer, not Obi
By conducting a search online for the keywords "Peter Obi versus INEC petition" and "Peter Obi's election petition", AFP Fact Check found a certified copy of Obi's petition, uploaded by local newspaper Premium Times (archived here). The document includes the list of lawyers who will represent him in court. Ozekhome's name is not among them.
Advance search using the keywords "Atiku Abubakar versus INEC 2023", Atiku Abubabakar's election petition 2023", AFP Fact Check spotted Ozekhome's name on the list of lawyers (archived here) handling Abubakar's petition.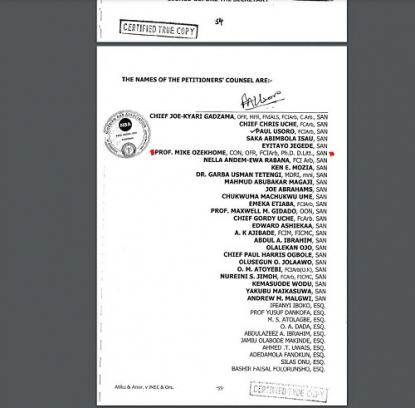 AFP Fact Check reached out to Ozekhome to confirm his legal representation but has yet to receive a response.
IPOB's agitation
Kanu's IPOB is pushing for a separate state of Biafra in Nigeria's southeast. It remains a hot-button topic more than half a century after secessionist leader Chukwuemeka Ojukwu declared the independence of the country's southeast in 1967. This was followed by a brutal 30-month civil war.
Though the breakaway state has since rejoined the rest of the country, members of IPOB and those sympathetic to its cause still refer to themselves as Biafrans.
Kanu was arrested in Kenya and extradited to Nigeria on June 27, 2021. His appeal against his continued incarceration was adjourned till September 14, 2023.