Post misrepresents lawyer's remarks in TV interview about Nigerian presidential election
Nigeria's disputed presidential ballot in February 2023 continues to generate disinformation. In one of the latest claims, a well-known legal expert purportedly said the inauguration of President-elect Bola Tinubu would be delayed until a court had ruled on petitions seeking to overturn the February election result. However, this is misleading: the lawyer, Femi Falana, told Nigerian broadcaster Arise News that legal challenges to the results preferably should be concluded before a new leader was sworn in and called for constitutional reforms to ensure this happens.
"Femi Falana Tinubu Will Not Be Sworn In As The President. Untill The Presidential Election Petition Is Concluded. The Judiciary Should Handle The Petition In 14 Days Before The Sworn In On May 29th (sic)," reads a post published on May 6, 2023.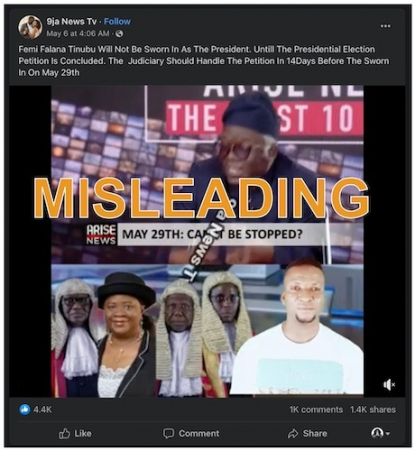 A Screenshot of the misleading claim, taken on May 12, 2023
Shared more than 1,400 times, the post features a 22-minute video showing two men, one wearing a suit and the other dressed in traditional Nigerian attire. Below them are the logo of Nigerian-owned international broadcaster Arise News and an inscription that reads: "May 29th: CAN IT BE STOPPED?"
The video also features three men wearing judges' wigs and a woman wearing a black hat. Meanwhile, a clip of a man in a white T-shirt plays in the right-hand corner of the video.
The account behind the post has a history of sharing content critical of Tinubu of the ruling All Progressives Congress (APC), and in support of his rival from the Labour Party, Peter Obi.
The Independent National Electoral Commission (INEC) declared Tinubu the winner of the presidential ballot held on February 25, 2023 (archived here).
Obi and fellow opposition candidate Atiku Abubakar of the People's Democratic Party argued that widespread irregularities and rigging marred the election.
Both men petitioned an election tribunal, with each claiming to have won (archived here). A court in Nigeria's capital city of Abuja has also been asked to stop Tinubu's inauguration as president (archive here).
However, the claim that Falana said Tinubu would not be sworn in as planned on May 29, 2023, is misleading.
Lawyer misrepresented
Using the InVID-WeVerify video verification tool, AFP Fact Check found that the original video was published on Arise News' official YouTube channel on May 5, 2023 (archived here).
It shows Arise anchor Charles Aniagolu interviewing Falana, a constitutional lawyer.
At no point in the clip does Falana say that Tinubu will not be inaugurated as president on May 29, 2023. Rather, he argues why the event ideally should be put off.
"I have always believed that all election petitions should be concluded before the inauguration of an incoming government," Falana says at the 8'05"-mark in the video.
He says it is possible for legal challenges such as those brought to court by Obi and Abubakar to be heard and ruled on within "14 or 21 days" if "we embrace technology".
Falana cites examples from Kenya, where similar disputes were settled within similar timeframes (archived here).
But he was clear all candidates declared winners during the general elections held on February 25 and March 18, 2023, would be sworn in before the conclusion of the petitions against them, adding that constitutional reforms would be needed for petitions to be decided before an inauguration.