Old migrant photo misrepresented as imminent US 'invasion'
Social media users are claiming a photo shows a crowd of people approaching the US border with Mexico before the May 2023 expiration of pandemic-era immigration restrictions in the former country. This is false; the picture was taken in southern Mexico in June 2022.
"All of these single, middle-aged men are about to invade our border in a week," says a May 2, 2023 tweet sharing the image. "Who else is SICK OF THIS BULLSHIT?"
Another post published May 5 says: "Prepare for an invasion next week, it's coming!"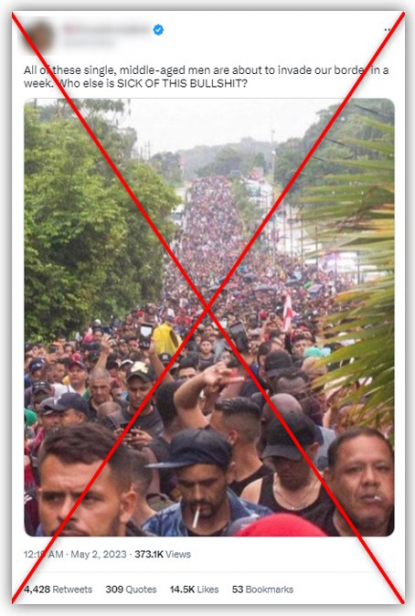 Screenshot from Twitter taken May 9, 2023
Similar posts sharing the photo have spread across Twitter, Facebook and other social media platforms as the US prepares to lift Title 42, a pandemic-era program former president Donald Trump introduced to swiftly expel people trying to enter the United States.
The Pentagon has sent troops to the border in anticipation of a potential surge in migrants looking to cross after the protocol ends May 11. El Paso and other border cities in Texas have declared states of emergency as the US expects thousands of people to arrive.
But like other photos and videos that have gained traction ahead of Title 42's lapse, the picture circulating online is not current.
Reverse image searches show Reuters captured the original photo (archived here) in Tapachula, Mexico on June 6, 2022. The New York Post and other websites later published it.
"Migrants walk in a caravan to cross the country to reach the US border, as regional leaders gather in Los Angeles to discuss migration and other issues, in Tapachula, Mexico June 6, 2022," the caption says.
Tapachula is in southern Mexico near Guatemala -- more than 1,000 miles from the US border.
AFP reported at the time that the caravan had thousands of people, some carrying small flags for Venezuela, Nicaragua and Honduras. Their journey was timed to coincide with the Summit of the Americas in Los Angeles, where migration was a topic of discussion.
Mexico's National Institute of Migration said in a press statement days later (archived here) that it had dissolved a crowd of approximately 7,000 that left Tapachula. The agency said authorities talked with the group's leaders and provided documents enabling them to stay in Mexico.
AFP and other media reported on the group's dissipation.
AFP has debunked other misinformation about the US border here and here.