Posts use old video to falsely claim Russian president visited South Africa in March 2023
After the International Criminal Court (ICC) issued an arrest warrant last month for Russian President Vladimir Putin, a video re-emerged on social media claiming to show him arriving in South Africa for an official visit. But this is false: the video was filmed in July 2018 ahead of the 10th summit of the BRICS group, which South Africa hosted. AFP Fact Check previously debunked a similar claim about the video a few months after Russia invaded Ukraine.
"Meanwhile President Putin landed in South Africa yesterday while the USA Vice President Harris Kamala lands in Zambia today. Interesting Africa geopolitics (sic)," reads a Facebook post published on March 31, 2023.
The post, which has amassed more than 4,700 shares, includes a TikTok video showing Putin and his delegation disembarking from a plane.
Screenshot showing the false post, taken on April 4, 2023
The caption on the TikTok video reads: "Russian President Vladimir Putin arrives in South Africa. ICC fails to arrest Putin."
The state-owned South African Broadcasting Corporation (SABC) ticker is visible at the bottom of the video.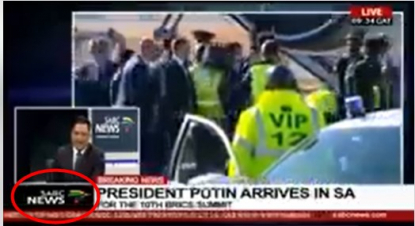 Screenshot showing the SABC ticker on the bottom left corner of the false clip
The same video was also published on TikTok here, with a similar caption claiming: "It is a slap to the USA and ICC as Vladimir Putin arrives in South Africa for BRICS summit."
BRICS is an alliance between the emerging nations of Brazil, Russia, India, China and South Africa, who will host (archived here) the 15th group summit from August 22-24, 2023 in the coastal city of Durban.
Putin arrest warrant
All eyes will be on Putin to see if he attends the summit after the ICC announced on March 17, 2023, that it had issued an arrest warrant for him (archived here), citing the alleged "unlawful deportation" of Ukranian children amid Russia's invasion of its western neighbour.
In 2015, South Africa failed to comply (archived here) with the cooperation request by the ICC to arrest former Sudanese president Omar al-Bashir when he attended an African Union summit in Johannesburg.
South Africa is among the countries that has refused to condemn (archived here) Russia's war in Ukraine, saying it wants to stay neutral and prefers dialogue to end the conflict.
Against this backdrop, US Vice President Kamala Harris visited (archived here) three African countries – Ghana, Tanzania and Zambia – at the end up March, before returning to the US on April 2.
However, the claim that Putin recently arrived in South Africa in defiance of an ICC arrest warrant is false.
Old footage
AFP Fact Check debunked a similar claim related to the video in July 2022, just a few months after Russia invaded Ukraine.
At the time, the claim accompanying the video simply stated: "President Putin in South Africa."
AFP Fact Check established the clip came from an authentic news bulletin produced by SABC several years earlier -- in 2018. The "Breaking News" headline in the bulletin said Putin "arrives in SA for the 10th BRICS summit".
The 10th BRICs summit was held (archived here) in Johannesburg, South Africa in 2018. Putin attended along with the leaders of the other member countries.
Russian President Vladimir Putin poses with other world leaders during the 10th BRICS summit in 2018 in South Africa ( POOL / Mike HUTCHINGS)
SABC uploaded a three-minute video of its original broadcast to YouTube (archived here) on July 26, 2018.
According to the Kremlin, Putin held a meeting (archived here) via teleconferencing with the members of his country's security council on March 31, 2023 — the day that the most recent Facebook post was published.
And on March 30, 2023, when it was claimed that he landed in South Africa, Putin took part in a ceremony to open (archived here) new pharmaceutical facilities in Kaliningrad, Saransk and St Petersburg, also via videoconference.
Although his whereabouts were not disclosed by the Kremlin during these two calls, Putin's last known public visit outside of Russia was on March 19 when he made a surprise trip (archived here) to Mariupol, a port city in Ukraine that Moscow captured after a long siege last year.
South Africa's ties with Russia date back decades when the Kremlin backed the country's ruling party Africa National Congress in its fight against apartheid.