Video from India falsely shared as 'Rohingya selling chemical-laced vegetables in Malaysia'
A video has been viewed hundreds of times after it was shared alongside a false claim that it shows Rohingya refugees in Malaysia soaking vegetables in chemicals to make them look fresh before selling them at a market. In fact, the clip has circulated since at least 2021, with clues that it was taken in India. In the video, people can be heard conversing in Marathi, a language widely spoken in India's Maharashtra state -- not Rohingya language. Longer footage also shows a motorbike with a license plate number from a city in Maharashtra.
The one-minute 45-second clip, which shows a bundle of vegetables being soaked in a bucket of liquid before it appears to gradually turn greener, was posted on Facebook here on March 28, 2023.
The English-language caption reads: "Watch how vegetables are made fresh by using chemicals in 105 seconds. That's why arbuda (cancer) is growing. In 105 seconds, vegetables and fruits are freshened by cancer-causing chemicals.
"THIS TECHNIQUE IS USED BY THE ROHINGYAS IN SELAYANG MARKETS WHO SOLD VEGETABLE ON THE ROADSIDES."
The claim is also repeated in Chinese.
Screenshot of the misleading post, taken on April 7, 2023
Selayang is a town in the state of Selangor, around 20 kilometres from the Malaysian capital, Kuala Lumpur.
The post was shared following news reports in February 2023 that local authorities were considering to station law enforcement officials at wholesale markets in Kuala Lumpur and Selayang to deter illegal traders from the Rohingya community from operating.
According to figures from the UN High Commissioner for Refugees, some 106,500 Rohingyas have registered with the agency as refugees and asylum seekers in Malaysia.
Rohingya refugees are not allowed to work and have no access to government services such as education and health care. Some have resorted to working illegally in order to make a living.
The video has been viewed more than 400 times after it was also posted alongside a similar claim in English and Malay elsewhere on Facebook here, here, here and here.
However, the claim is false.
Video taken in India
A combination of a reverse image search and keyword searches found a longer video was posted on a YouTube channel called Mana Family Trends on July 22, 2021.
The bilingual English and Telugu caption reads: "See how dried leafy vegetables are made by dipping them in chemicals."
The video in the misleading post starts from the 2:20 mark of the genuine video, which is over four minutes long.
Below is a screenshot comparison of the video in the misleading post (left) and the genuine YouTube video (right):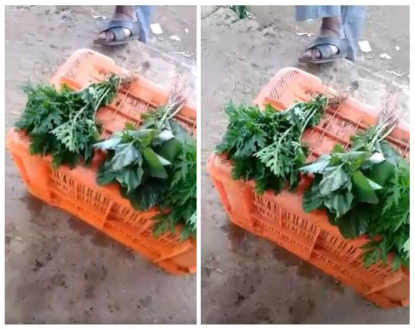 Screenshot comparison of the video in the misleading post (left) and the genuine YouTube video (right)
According to AFP fact-check journalists in New Delhi, in the video, people can be heard talking in Marathi, a language widely spoken in Maharashtra state, in western India.
The longer footage also shows motorbikes being parked at the background. At the 1:55 mark, it shows a license plate number of one motorbike which starts with letters "MH 15". According to a document from the Maharashtra motor vehicles department, MH 15 is the number for license plates issued in the city of Nashik.
Different clips taken in Nashik, such as here and here, also show vehicles with license plate numbers that correspond with the one seen in the video.
Below are screenshot comparisons of the video in the misleading post (top) and the videos taken in Nashik (centre and bottom):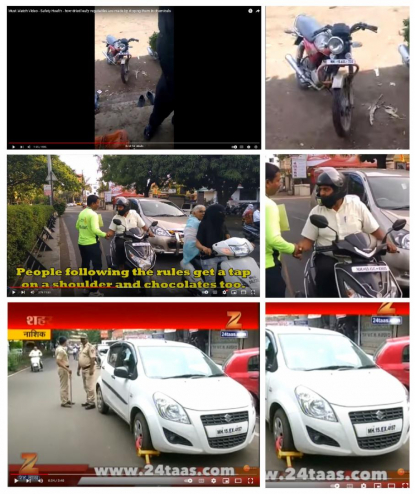 Screenshot comparisons of the video in the misleading post (top) and the videos taken in Nashik (centre and bottom)
Parts of the video were used in a news report from a Nashik-based journalist about authorities raiding markets and vegetable suppliers in Mumbai and nearby areas to stop the use of harmful chemicals in vegetables. It was aired by Zee News, a Hindi-language news channel in India, on July 29, 2021.
'Not in Selayang market'
Malaysia's Agriculture Department sent a press statement to AFP on April 6, 2023, saying that the incident did not take place in the Selayang market "as seen from the language used and the motorcycle registration number in the video".
The statement was also uploaded on the department's Facebook page on the same day.
AFP previously debunked another false claim about Rohingya refugees in Malaysia here.