Posts falsely claim Nigerian separatist group is not listed on global terrorism index
Supporters of the Nigerian separatist group Indigenous People of Biafra (IPOB) have claimed that it was not listed as one of the world's deadliest terror groups on the 2023 Global Terrorism Index (GTI). Nigeria considers IPOB a terrorist organisation and its leader is currently in detention. AFP Fact Check found that IPOB was initially ranked as the tenth deadliest terror group in the latest GTI published by the Institute for Economics in March 2023. However, the institute has since amended its report to differentiate between IPOB as a "peaceful" secessionist movement and the alleged violent activities of its paramilitary wing.
"It's FALSE that IPOB is now ranked the 10th deadliest terrorist group in the world by the Global Terror Index. IPOB was only mentioned as having been declared a terrorist group by Nigeria. IPOB is registered. Terrorist groups can't be registered. If you try, you'll be arrested," reads a tweet posted on March 16, 2023.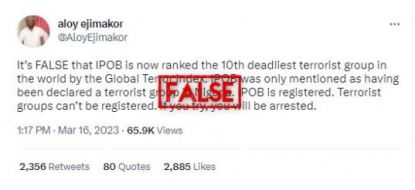 A screenshot of the false post, taken on March 16, 2023 ( Mary KULUNDU)
Aloy Ejimakor, the author of the tweet, is special counsel to IPOB's detained leader Nnamdi Kanu.
Other accounts affiliated with IPOB also shared the claim, including self-proclaimed IPOB faction leader Simon Ekpa who was recently arrested (archived here) in Finland.
Ekpa has been accused of using social media to incite violence during the 2023 Nigerian general elections.
He repeatedly threatened "open war" and violence against those who came out to vote in southeast Nigeria in violation of his stay-at-home orders, which called for a curfew and lockdowns.
However, other factions of IPOB repeatedly tried to disown him.
Global Terrorism Index
By using a keyword search for "2023 Global Terror Index", AFP Fact Check found the most recent report was published on March 14, 2023 by the Institute for Economics and Peace (IEP), an independent nonprofit think-tank based in Sydney.
Its annual Global Terrorism Index presents key trends in global terrorism using data from the previous year. It covers 163 countries, each ranked according to a score.
IEP defines terrorism as "the systematic threat or use of violence, by non-state actors, whether for or in opposition to established authority, with the intention of communicating a political, religious, or ideological message to a group larger than the victim group, by generating fear and so altering (or attempting to alter) the behaviour of the larger group".
The report initially showed IPOB in tenth place on a list called "20 deadliest terror groups of 2022".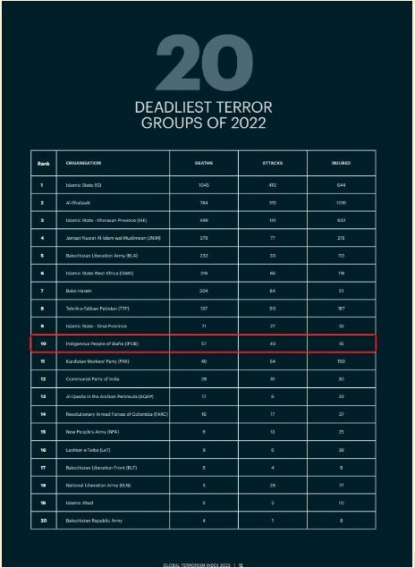 A screenshot of the report, taken on March 17, 2023 ( Mary KULUNDU)
"The Indigenous People of Biafra (IPOB), designated as a terrorist group by the Nigerian government in 2017, recorded their deadliest year in 2022. They were responsible for 40 attacks and 57 deaths in 2022, an increase from 26 attacks and 34 deaths the year prior. IPOB is a separatist group with many factions, many of which are seeking a peaceful succession from Nigeria," the report read on page 28.
It also identified Nigeria as the eighth most impacted country by terrorism, along with other west African countries, including Burkina Faso, Mali, and Niger.
However, the IEP amended its report on March 27, 2023 (statement archived here), to distinguish between IPOB's secessionist movement and its paramilitary wing, the Eastern Security Network (ESN).
"While IPOB was proscribed as a terrorist group by the Nigerian Government in 2017, attacks in 2022 can more specifically be attributed to the paramilitary wing IPOB-ESN," the IEP told AFP Fact Check in an email.
"It was important therefore to differentiate between the peaceful activities of the group and its alleged involvement in violent activity."
The list previously called "20 deadliest terror groups of 2022" was renamed to "20 groups with the largest number of deaths attributed in 2022".
Screenshot of the amended page with IPOB-ESN ranked 10th
The IEP said the title was modified "to make clear that attacks can be unclaimed".
Terrorism designation varies
While Nigeria designated IPOB as a terrorist group in 2017, other countries have not necessarily followed suit.
In 2022, the United Kingdom released a statement (archived here) affirming that IPOB was not designated as a terrorist organisation by the government.
The US list of Designated Foreign Terrorist Organisations (archived here) does not include IPOB, but both ISWA and Boko Haram feature on it.
The 2022 GTI did not include a list of the 20 deadliest terror groups but the report briefly mentioned IPOB as being a separatist group targeting Nigerian law enforcement.
Although the GTI lists IPOB as a terror group in its latest report, the IEP does not have the legal authority to designate a group as a terrorist organisation.
An individual country like the United Kingdom or the United States can designate an organisation as a terror group but through a legal process.
March 31, 2023 This story has been updated with the IEP's amended report and statement to AFP Fact Check.