Statue of Liberty images do not disprove sea-level rise
Climate skeptics say pictures of the Statue of Liberty taken 120 years apart are evidence against the global rise in sea levels. This is false; experts told AFP the claims omit the effect of tides, and US government data show the water in New York Harbor climbs by nearly a foot per century.
"This is what catastrophic sea level rise actually looks like," says a March 15, 2023 tweet with two photos of the New York City landmark, purportedly showing the sculpture in 1898 and 2017, with no discernible change in the water level.
Screenshot of a tweet taken March 17, 2023
The tweet accumulated more than 16,000 shares and spread to Instagram. Similar claims have previously circulated in Spanish.
The pictures do not tell the story of Earth's rising oceans, experts told AFP. Data from the National Oceanic and Atmospheric Administration (NOAA) show a consistent increase in relative New York City sea levels over the past century.
"These sorts of viral messages try and disprove sea level rise by showing pictures like this," said Catherine Walker, an associate scientist specializing in applied ocean physics and engineering at the Woods Hole Oceanographic Institution.
"But the fact is, there are tide gauges that measure sea level rather precisely that these folks ignore, and these have shown that the seas are rising. No question."
Photos taken 100 years apart
A reverse image search reveals the black-and-white picture featured in the posts was taken "circa 1900," according to the Museum of the City of New York.
This screenshot taken March 17, 2023 from the Museum of the City of New York's website shows a photo of the Statue of Liberty from circa 1900, with elements highlighted by AFP
Meanwhile, the photo supposedly taken in 2017 appears to be older.
The earliest iteration of the picture AFP found online appeared in a 2012 blog post about sightseeing in New York City.
Screenshot from Twitter taken March 20, 2023, with elements highlighted by AFP
Screenshot taken March 20, 2023 from Gray Line New York, with elements highlighted by AFP
Signs of construction in the image correspond to a year-long renovation project that began in October 2011.
The placement of blue tarps, wooden panels and green fences at the base of the statue matches other photos taken between March and June 2012.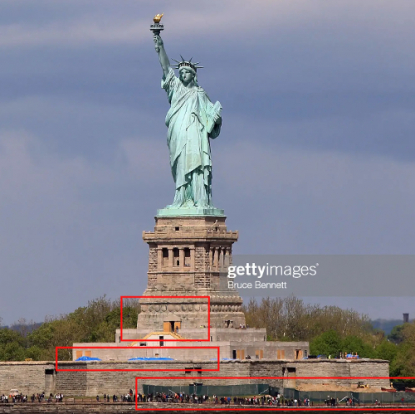 This screenshot taken March 17, 2023 from Getty Images shows the Statue of Liberty on April 27, 2012, with elements highlighted by AFP
Tides
Walker told AFP comparing the photos shared online is misleading in part because "we don't know when during the tidal cycles they were taken."
"The daily tides in the New York Harbor are more than five feet every day," she said March 16.
Dianna Padilla, professor of ecology and evolution at Stony Brook University in New York, agreed.
"Depending on the day and time of the photo, one could make it look like anything one chose," she said March 17.
If the older image was taken at high tide and the newer one was taken at low tide, "then that will of course mask average sea level rise," said Iris Moeller, a geography professor at Trinity College in Dublin, Ireland.
"Even if the images were an indication of average sea level over the course of several years -- and they are clearly not -- they would relate to what we call 'relative sea level,'" she said March 17.
That term refers to how the height of the ocean changes relative to the nearby coastline. Moeller said land "can rise or subside for various reasons," which is why sea levels are measured via tide gauges and adjusted to account for this effect.
Sea levels rising in New York
NOAA data dating back to 1856 indicate relative sea levels in lower Manhattan have risen by about 2.9 millimeters per year on average. That is equivalent to nearly one foot in a century, according to the US agency.
Globally, oceans have risen "only about 9-12 inches over the century," said Jayantha Obeysekera, director of the Sea Level Solutions Center at Florida International University. He said side-by-side images are unable to account for this change.
"No one said sea level rise is catastrophic right now," Walker added. "The issue with sea-level rise is that even a 'small' amount has a large impact."
Along the US coastline, oceans are projected to rise an average of 10 to 12 inches between 2020 and 2050 -- similar to the increase observed between 1920 and 2020, according to a 2022 NOAA report.
In a 2020 study published in Urban Climate, climatologists said New York City may experience sea levels higher than the global average due to warmer waters in the mid-Atlantic Ocean and distant ice sheet loss.
The UN Intergovernmental Panel on Climate Change said in its 2021 report that "human influence was very likely the main driver" of the global increase in sea levels "since at least 1971."
AFP has fact-checked other claims about climate change here.