Old Malaysia floods clip falsely shared as February 2023 disaster in Indonesia
A video of cars being washed away on a flooded highway in Malaysia has been viewed thousands of times on Facebook and YouTube after it was shared with a false claim that it shows a disaster in Indonesia in February 2023. But the clip has been in circulation since December 2021, when a huge flood hit several areas in Malaysia. AFP traced the location of the video to the Malaysian city of Shah Alam.
"The Brantas River embankment in East Java collapsed," reads the caption for this YouTube video, which has been viewed more than 2,200 times since being uploaded on February 24, 2023.
The 30-second clip shows vehicles being swept away by a flood on what appears to be a highway.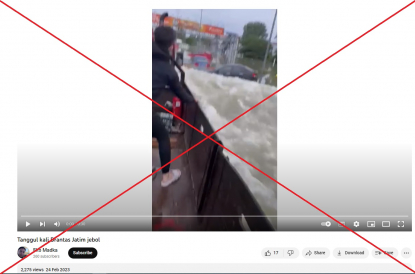 Screenshot of the misleading post, taken on March 14, 2023
The same video has been viewed more than 5,600 times after it was shared with a similar claim here, here and here on Facebook; and here, here and here on YouTube.
The clip circulated days after heavy rains caused floods in four villages in Gresik regency, in Indonesia's East Java province, on February 21, 2023.
But the claim is false.
Keyword searches on Google found the same clip was published here on Twitter on December 19, 2021, by Malaysian news outlet Sinar Harian.
"Like being hit by a wave!" the tweet said. "A video of severe flooding that caused cars to flip and float near Section 26, Shah Alam, went viral."
Shah Alam is the capital of Malaysia's Selangor state.
Bagaikan di landa ombak!

Tular satu video keadaan banjir teruk yang menyebabkan kereta bergelempangan dan terapung dekat Seksyen 26, Shah Alam.

Sumber: Video Viral pic.twitter.com/bvTw5G5Rcw

— SinarHarian (@SinarOnline) December 19, 2021
Heavy rains in late December 2021 caused massive floods in parts of the country, killing more than a dozen of people and displacing at least 70,000, according to an AFP report.
In Selangor -- one of the worst-hit areas -- parts of state capital Shah Alam were inundated with flooding, forcing residents to flee their homes and leaving drivers stranded in their cars overnight.
AFP managed to pinpoint the location of the video in Shah Alam on Google Street View.
Below is a screenshot comparison of the video in the misleading post after it was rotated 90 degrees anticlockwise (left) and the actual location on Google Street View (right), with corresponding landmarks highlighted by AFP.

Screenshot comparison of the video in the misleading post (left) and the location on Google Street View (right)