TikTok user makes misleading 'social credit' claim about Sydney Mardi Gras event, experts say
A TikTok user has shared "oversimplified" claims about a crowd monitoring system used at Sydney's Gay and Lesbian Mardi Gras parade, misleadingly linking it to a "social credit system", surveillance experts in Australia say. The user's video -- viewed more than 850,000 times -- suggested people who looked "angry" at the parade would "get a bad score" and trigger a police response. However, a surveillance researcher and a digital rights group told AFP there was no evidence Australia was building a social credit system. The company that provided the event's monitoring system said it was used to prevent crowd crushes, while a spokesperson for the parade said the suggestion that police deployment was based on the crowd's mood was "made up". Police said just four people were arrested at the event for offences including assaulting police officers.
The misleading video was shared here on TikTok on February 25, 2023 by a user with the handle "thefive8take", ahead of the annual Sydney Gay and Lesbian Mardi Gras parade on the same day.
"Australian social credit score system starts tonight at the Mardi Gras parade," the user says at the start of the TikTok video, which has been viewed more than 850,000 times.
"Several sophisticated CCTV cameras with data analytics software that is able to monitor people's moods and movement will be used tonight at the Sydney Pride parade.
"So if you look angry, you are gonna get a bad score. If there are five of you and you all look angry, the police are gonna be called," he continues.
The user goes on to talk about a type of technology called "behavioural analytics mobile detection boxes" which he said was also used at a New Year's Eve event in Sydney in a limited capacity.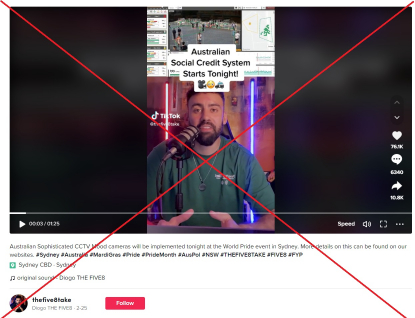 A screenshot of the misleading claim, captured on March 13.
Sydney's Gay and Lesbian Mardi Gras parade -- which originally grew out of a 1978 gay rights protest that ended with dozens of arrests -- returned to the city's streets for the first time since the Covid-19 pandemic on February 25, attracting thousands of revellers.
New South Wales police said on February 26 this year that just four people were arrested during the parade for offences including assaulting officers.
The TikTok video was also shared 3,000 times across Facebook posts from other users in Australia, Canada and the US. It was also posted on Instagram here, here and here.
The claim circulated after the Sydney Morning Herald reported on the technology that was used to track phones and moods as a crowd-monitoring tool at Mardi Gras on February 24.
The report quoted the Mardi Gras organiser saying the use of the technology by a company called Dynamic Crowd Measurement (DCM), which involved setting up temporary cameras, was intended to avoid situations that could lead to tragedies like the Seoul Halloween crowd crush in 2022.
The Herald report did not mention anything about "a social credit system" but a right-wing Victoria Senator, Ralph Babet, misleadingly linked it to the one that China began implementing in 2019.
Social credit is a system in China that aims to assess individual actions across society, effectively standardising conduct through rewards and deterrents, as reported here by AFP.
Experts told AFP the claim in the posts is misleading and there has so far been no indication that Australia plans to implement a social credit system.
'Sensationalised' claim
"The Mardi Gras example is not a state-operated social credit system, as the sensationalised analysis of the TikTok user's claims," Macquarie University Social Sciences lecturer Peter Rogers told AFP.
Rogers said comparing temporary cameras at Mardi Gras to the social credit score system in China "is a drastic over-simplification based on misrepresentation of the facts".
He added that the system is a form of real-time crowd flow observation that does not allow for individual identification through images.
Ausma Bernot, a surveillance researcher at Charles Sturt University, told AFP she was not aware of Australia working on any social credit system.
"Mood recognition and social credit systems are different," she said.
James Clark, executive director of the charity group Digital Rights Watch, also said there was "nothing to suggest" Australia was planning to deploy such a system.
But he noted the expansion of mass surveillance systems like the one used at the Mardi Gras event was "concerning".
"Everyone should be free to move through the world without their movements and behaviours being constantly tracked and monitored," Clark said.
AFP has previously debunked other claims about a social credit system in Australia here and here.
Not for surveillance
A Mardi Gras spokesman told AFP the TikTok user's claim about police being called if a group of five people looked angry was "made up".
The system was not used for surveillance and does not track or collect any personal information about individuals, but rather to help with crowd control, the spokesman said.
DCM chair Peter Leonard refuted the TikTok user's claim and said it was wrong to link the monitoring system to social credit.
The system -- which analyses crowd density, movement and mood trends -- was designed to assist crowd controllers, who can use its dashboard to look for warning signs of crowd crushes, he said.
"None of the cameras run facial recognition systems," Leonard said, adding that the images captured on CCTV are deleted one hour after they are taken.
According to the DCM website, the system tracks mood by observing "facial expressions and counts smiles to measure and categorise mood as positive, negative or neutral."