Clip of US President Joe Biden vilifying gay people was digitally manipulated
Social media posts circulating in Kenya and Uganda claim to show a video of US President Joe Biden saying that homosexuality has no place in modern civilisation. The clip surfaced after Kenya's Supreme Court rejected a government attempt to ban the LGBTQ community from registering a rights organisation. AFP Fact Check found that the video is a deepfake based on actual footage of Biden. The original clip shows Biden announcing more military aid for Ukraine in its war against Russia at a press conference in January 2023. He does not speak about people in same-sex relationships.
"President Joe Biden has nailed LGBT (sic)," reads the text on a TikTok video published in Kenya on March 2, 2023.
Screenshot showing the digitally manipulated video, taken on March 3, 2023
In the clip, Biden is seen giving a speech while flanked by two people who are partially visible.
He purportedly begins by saying: "You will never be a real woman. You have no womb, you have no ovaries, you have no eggs."
The rest of the purported speech dredges up other hateful themes targeting gay people and trans women.
A US Twitter account published the video on February 2, 2023, attracting more than 5,000 retweets.
Screenshot showing the tweet, taken on March 7, 2023
The claim was also shared on Twitter and Facebook accounts in Kenya and Uganda, including here, here and here.
Homophobic leaders
On February 24, 2023, Kenya's Supreme Court dismissed a government appeal seeking to block the LGBTQ+ community from registering a rights organisation.
The judges ruled that Kenya's NGO Coordination Board was wrong to stop the National Gay and Lesbian Human Rights Commission (NGLHRC) from registering as an entity in 2013.
The ruling ended a decade-long legal battle in a country where homosexuality remains illegal.
Homophobic rhetoric has been on the rise in Kenya, with President William Ruto and opposition leader Raila Odinga among those denouncing homosexuality.
On the day of the ruling, opposition MP Peter Kaluma filed a notice that he intended to introduce a bill that would jail for life people convicted of homosexuality or those promoting it.
But the video circulating on social media does not show Biden speaking out against gay people.
Doctored video
After extensive online searches, AFP Fact Check found no trace of Biden publicly denouncing the LGBTQ+ community.
With the video verification tool InVid-WeVerify, however, we found the original video on the websites and YouTube channels of several international news organisations.
The clip was published here, here and here on January 25, 2023.
Identical visual clues in both videos include the flags in the background, the White House and time stamps in the left-hand upper corner, and Biden scratching his head.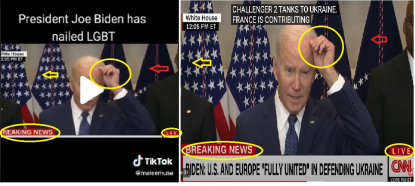 A side-by-side comparison of the TikTok video and the one published by CNN
In the original clip, Biden announced that the US would send 31 Abrams tanks to equip Ukraine's tank battalion.
"This is about helping Ukraine defend and protect Ukrainian land. It is not an offensive threat to Russia," Biden said.
He also spoke about his administration's commitment to protecting Ukraine's sovereignty and commended other NATO member countries for their support.
The White House also posted a transcript of the Biden press briefing on its website on January 25, 2023. At no point does he offer a scathing opinion of gay and trans people.
Searching for keywords from the doctored speech, we found that the text falsely attributed to Biden was published on Reddit in 2021.
Meanwhile, the war in Ukraine that began in February last year has killed thousands, displaced millions and reduced entire cities to rubble.
March 8, 2023 This story was amended to fix a spelling mistake in the header image