US research station HAARP did not cause Turkey-Syria earthquake: experts
Following the devastating earthquake in Turkey and Syria in February 2023, social media posts in various languages have shared videos they falsely claim show the disaster was "man-made" and triggered by the US-based High-frequency Active Auroral Research Program (HAARP) research facility. The false posts circulated in various languages. Scientists called the claim "ridiculous" and "science fiction", while one of the clips actually predates this year's Turkey-Syria quake.
A black-and-white video which appears to have been filmed from a surveillance camera was shared on Facebook here on February 9, 2023.
The 22-second clip shows flashes of light during what appears to be an earthquake.
The post's Indonesian-language caption starts with the hashtag "Man-made Disaster" and then goes on to say: "The HAARP technology exists and is real … If the Turkey quake was indeed caused by a HAARP attack, then Turkey and other Muslim countries have to unite to nuke the HAARP station centre in Gakona, Alaska, US."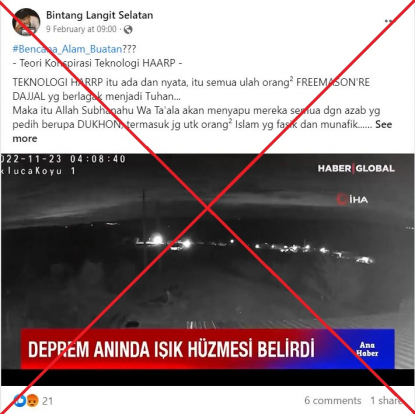 Screenshot of the first false post, taken on March 4, 2023
Similar posts were shared here and here and also circulated in other languages such as English, Romanian, German and Greek.
The posts circulated days after a devastating earthquake struck southeastern Turkey and neighbouring Syria in the early morning hours of February 6, 2023. By the month's end, the death toll in both countries exceeded 50,000 people.
Another video -- 40 seconds long and showing flashing light amid rattling sounds during nighttime -- was posted on Facebook on February 7, 2023.
The post's lengthy Indonesian-language caption partly says: "Moments before the nearly 8 magnitude devastating earthquake in Turkey that left thousands dead, the HAARP weapon appeared with a strange flash of lightning. HAARP has the ability to trigger floods, hurricanes, earthquakes, thunderstorms etc."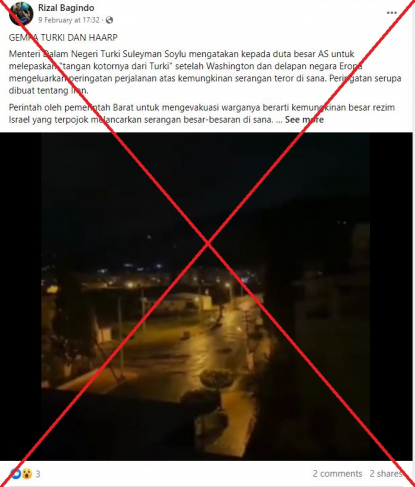 Screenshot of the second false post, taken on March 4, 2023
Another Indonesian-based Facebook user also shared the video alongside a similar claim here.
Similar posts featuring the clip circulated in other languages such as English, French, Spanish, Dutch, Romanian, Hungarian and Czech.
AFP spoke to multiple experts in astronomy, geophysics and earth sciences who all dismissed the claims.
They said HAARP -- a research centre run by the US Air Force and US Navy before being handed over in 2015 to the University of Alaska Fairbanks -- does not have the capacity to trigger earthquakes.
'Science fiction'
HAARP is focused on studying the properties and behaviour of the ionosphere, which NASA explains here is the top layer of the earth's atmosphere that meets the beginning of space.
Jeffrey Hughes, professor of astronomy at Boston University, told AFP that HAARP's radio waves heat the ionosphere over a limited region of around 100 km. "There is no way this could be used to create an effect halfway round the earth in the solid earth. I'm sorry but this is just silly," he said.
Toshi Nishimura, a geophysicist and research associate professor at Boston University's College of Engineering, said: "Currently there is no technology to launch radio waves from the ground and hit a city in another continent precisely."
He added: "Artificial radio waves can disturb the upper atmosphere locally, but it is comparable to disturbance caused by the Sun. I'm not aware of scientific evidence that the artificial waves can create much stronger disturbances and impact local seismic conditions."
Susan Hough, a geophysicist with the US Geological Survey (USGS), dismissed the claims as "science fiction". "There is no plausible mechanism whereby an earthquake could be triggered with such a device or weapon," she told AFP.
"This is so crazy it's like asking if the earthquake was caused by Bugs Bunny digging for carrots," David Keith, professor of applied physics at the Harvard School of Engineering and Applied Sciences, told AFP when asked about these claims. "There is simply no known mechanism for anything remotely like HAARP to have any impact on earthquakes."
Michael Lockwood, professor of space environment physics at the University of Reading in England, who has worked with similar scientific instruments in other locations, was unequivocal that "HAARP is NOT a weapon in any shape or form and never has been and it cannot be used as a weapon".
"The idea that HAARP, situated just north of Gakona, Alaska could generate seismic activity anywhere, let alone in Turkey and Syria is, frankly, truly ridiculous," he added.
On its FAQ page, HAARP says: "The goal of the research at HAARP is to conduct fundamental study of the physical processes at work in the very highest portions of our atmosphere."
When asked by AFP about the latest claims that it was behind the February 2023 earthquake, HAARP's programme manager Jessica Matthews said this was not possible.
"The recent earthquake and tragic loss of life in Turkey highlight the destruction that natural disasters can cause. The research equipment at the HAARP site cannot create or amplify natural disasters," she told AFP.
Misused videos
The videos in the posts had also been shared with false context.
A keyword search found the first video was posted by Turkish broadcaster Haber Global on November 23, 2022 -- more than two months before the Turkey-Syria quake.
According to the Haber Global news report, the footage shows lightning during an earthquake in the Duzce region in northwestern Turkey on the same day.
In the clip, the news presenter says the "beam of light" phenomenon has been also observed in other quakes, when there is movement in the Earth's fault lines.
Other local news media here and here also reported on the flashes of light in the sky during the November 2022 quake in Turkey. The 6.1-magnitude quake injured at least 50 people, AFP reported at that time.
Using video verification tool InVID-WeVerify, AFP ran a Yandex reverse image search of the keyframes from the second video, and found the video was published by Turkish newspaper Yeni Safak on its website and Facebook page on February 6, 2023.
Accroding to Yeni Safak, a local resident took the video during the earthquake in Hatay province, in southern Turkey.
Other Turkish media, such as here and here, also reported the clip was taken during the earthquake in Hatay province, but some others, like here, said it was recorded in Pazarcik, a district in Turkey's southern Kahramanmaras province. None of the reports mentioned HAARP.
Hatay and Kahramanmaras were the two hardest hit provinces by the February 2023 quake, AFP reported.
Earthquake lights
Experts told AFP that such lights are not a proof that HAARP triggered an earthquake. The phenomenon is common during quakes, though there is some disagreement about their provenance.
Phenomena such as sheet lightning, balls of light, streamers, and steady glow which are reported in association with earthquakes are called earthquake lights, the USGS explains here.
Geophysicists differ on the extent to which they think that individual reports of unusual lighting near the time and epicenter of an earthquake actually represent earthquake lights, the USGS says.
"Most experts agree that earthquake lights do occur: flashes of light seen during strong earthquakes. Sometimes lights are generated by transformer explosions, but there is evidence for lights from the earth itself," Hough of USGS explained to AFP.
"There are some ideas why they occur, but I don't believe there's a widely accepted theory to explain them, in part because they are such an ephemeral observation, they are difficult to even document," she added.
AFP showed the footage that was shared by the Turkish media to experts as well.
John Vidale, professor of earth sciences at the University of Southern California, said that "videos such as this usually come from electric transformers shorting out during the strong shaking."
Hughes from Boston University, concurred. "They look to me, at least some of them, like the sorts of flashes you get when electric power systems short out, which I'm sure happened during the destruction of the earthquake," he said.
Turkey, which sits on the East Anatolian and the North Anatolian fault lines, is in one of the world's most active earthquake zones.
"By all indicates the Turkey earthquake, while large, is in keeping with expectations for large earthquakes on major strike-slip fault systems," Hough said.
AFP has previously debunked misinformation about HAARP, such as those that say it was responsible for the unusual orange cloud that appeared in Turkey weeks before the earthquake, or that it could control the weather or emit 5G radiation containing the coronavirus.