Visuals of dead animals unrelated to Ohio derailment
Thousands of fish died in nearby streams in the aftermath of a cargo train that derailed in the US state of Ohio with toxic chemicals, but several images of dead wildlife circulating on social media predate the disaster and are not from the area. Authorities are still investigating the environmental fallout from the hazardous chemicals released into the soil, air and water.
"Fish DEAD in OHIO, TOXIC," a February 13, 2023 tweet says -- accompanied by a photo of hundreds of small fish, seemingly dead in a river.
Screenshot of a tweet taken on February 22, 2023
The same visual was also shared on Facebook on February 15 with the caption: "Animals and fish are dropping dead. How much more evidence do you people need?! (ALL these images are from REAL sources)," in reference to the cargo train derailment in East Palestine, Ohio.
State and federal authorities continue to investigate the potential environmental repercussions of the derailment which sparked a massive fire and triggered the release of toxic fumes, including from vinyl chloride, a colorless gas deemed carcinogenic by the US National Cancer Institute.
The chemicals released sparked widespread concerns on social media, but the above photo is part of a larger series of old images unrelated to the toxic train wreck that have resurfaced online.
AFP investigated several of these images and details their accurate context below.
Fish in California
Through a reverse image search, AFP found an exact match to the first picture. It was taken by Bronte Wittpenn, a photographer for San Francisco Chronicle, and distributed by The Associated Press.
The image appeared on the Chronicle's website on August 30, 2022 with the caption: "Hundreds of small fish can be seen dead in Lake Merritt in Oakland, Calif. on Monday, Aug. 29, 2022. Crews on Wednesday morning will begin removing the thousands of dead fish that have washed ashore at Lake Merritt in Oakland due to a harmful algal bloom that is spreading across the bay, city officials said."
Red tides -- natural but potentially harmful algae blooms -- tend to impact the coast of California.
Argentina
Footage of dead fish along a shore also circulated in posts tying the image to the accident in Ohio -- gathering hundreds of thousands of views on Twitter.
"Saddening, shocking and upsetting," a February 16 tweet says, accompanied by the hashtag "#OhioChernobyl."
A screenshot of a tweet taken on February 21, 2023
Via a reverse image search, AFP found the original video tweeted by a journalist in Argentina on January 22, 2023 -- prior to the train derailment. The footage shows Laguna Del Plata, a lagoon in the province of Santa Fe.
According to local media reports -- including sources sharing the exact footage -- thousands of fish washed ashore in Laguna Del Plata after dying from lack of oxygen, a phenomenon known as hypoxia -- in this case triggered by drought and low water levels, according to local authorities and experts.
Florida
Social media users also shared another photo of "dead fish everywhere" claiming it was taken in East Palestine.
A screenshot of a tweet taken on February 21, 2023
But nature photographer Julie Dermansky published the image in a 2018 piece for climate publication DeSmog.
It shows South Lido Beach in Florida, according to the article.
While the images above do not depict Ohio in 2023, local authorities did report the death of aquatic species from the toxic spill.
The state's natural resources department reported, on February 14, the death of some 3,500 fish along 7.5 miles of streams nearby the accident.
In a February 17 press release, the White House also said that the US Environmental Protection Agency (EPA) is working in collaboration with authorities to ensure drinking water is safe in the area.
The government also ordered Norfolk Southern, the railroad company that owns the trains involved in the accident, to pay the entire cost of the cleanup of the derailment.
Birds in Arkansas
Similar misleading posts were found about other species.
On February 16, a Facebook post shared a picture of seemingly dead birds on a road.
"Maybe we should be concerned with what's going on In Ohio," the caption said before being edited to add: "these birds dropped de@d in Ky," in a reference to the neighboring state.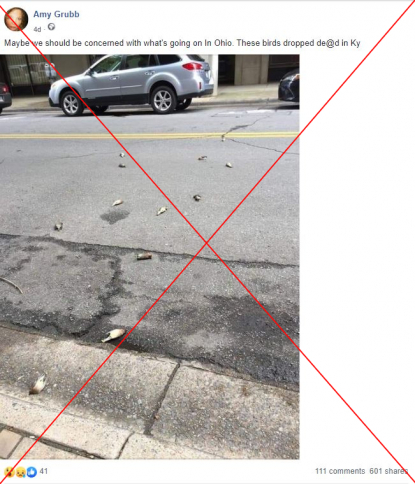 A screenshot of a Facebook post taken on February 21, 2023
AFP found the photo previously appeared in an article reporting on the intoxication of birds through fermented berries in Little Rock, Arkansas -- which in some cases can cause birds to collide into obstacles and die.
"Several dead birds were spotted near 7th and Main streets in downtown Little Rock in early April 2018," the photo caption said.
Kentucky
A similar claim also circulated widely on Twitter, this time with a collage of three different images of what appears to be dead birds laying on the ground of an empty parking lot in the state of Kentucky.
"Birds Falling From Sky 378 Miles From East Palestine As Gov't Insists Ground Zero Is Safe For Humans," one account commented as it retweeted the images on February 18.
A screenshot of a tweet taken on February 21, 2023
But the birds were likely struck by lightning during a recent thunderstorm in the area, according toFox News meteorologist Chris Johnson, who posted the images on Facebook.
"Several dead birds spotted in a Lexington, Ky. parking lot earlier this morning. #kywx," Johnson initially said in a February 16, 2023 post.
The meteorologist later updated his post after many people commented that the chemicals from the train wreck in Ohio were to blame for the deaths of the birds.
He said the photos were taken "at Haltech in Lexington, Ky. Lightning was believed to be the culprit. This was not a widespread event in central KY."
AFP has debunked other claims about the Ohio train derailment here.