Article misleads on safety of Pfizer vaccine ingredient
An article and social media posts claim an ingredient in Pfizer's Covid-19 vaccine is not safe for humans, citing a data sheet from a US chemical corporation. This is misleading; the company says it does not manufacture the compound in the shot -- and the document pertains to research-grade chemicals, which health experts say do not undergo the same strict regulatory approval process.
"The package insert for Pfizer Inc's mRNA vaccine reveals the drug contains an ingredient listed as '[n]ot for human or veterinary diagnostic or therapeutic use in a technical data sheet referencing the US Occupational Safety and Health Administration (OSHA),'" says a February 7, 2023 article.
The article goes on to conflate the vaccine ingredient with a compound that Cayman Chemical, an American biotechnology company, produces for health research.
Screenshot of an article taken February 15, 2023
The report comes from American Faith, a website founded by Phil Hotsenpiller, a pastor in the US state of California. His site has previously promoted debunked claims about Covid-19 treatments and vaccines.
The article's claim, examples of which date back to at least 2022, spread quickly on social media platforms such as Instagram and Twitter. But the Pfizer vaccine ingredient is not the same as Cayman Chemical's compound.
"We do not make ALC-0315 for pharmaceutical use," said Ryan Foster, a Cayman Chemical spokesperson, in a February 15 email.
What is the ingredient?
ALC-0315 is part of a lipid nanoparticle that helps shield the fragile messenger RNA (mRNA) molecules that Pfizer's Covid-19 vaccine delivers to cells.
"The RNA vaccine can't just be injected into the body, then it would break down immediately. It must be protected with a cover," Annette Beck-Sickinger, professor of biochemistry and bioorganic chemistry at the University of Leipzig in Germany, previously told AFP. "This shell is a mixture of different lipids (fat molecules), which then form small globules like a kind of 'soap bubble.'"
Fact sheets from the US Food and Drug Administration (FDA), the Public Health Agency of Canada and the European Medicines Agency (EMA) list ALC-0315 as a component of the Pfizer-BioNTech Comirnaty vaccine.
This screenshot taken February 24, 2023 shows the Pfizer Covid-19 vaccine ingredient list on the FDA's website
"The manufacturing process and controls for Comirnaty have been well characterized and qualified," the FDA told AFP in a February 21 email. "The analytical procedures include tests to ensure vaccine safety, identity, purity, quality and potency."
A Pfizer spokeswoman told AFP she would not comment on non-Pfizer documents, instead pointing to the EMA fact sheet when asked about the safety of specific ingredients.
Cayman Chemical's compound
A safety data sheet from Cayman Chemical does say its ALC-0315 product is "for research use" and "not for human or veterinary diagnostic or therapeutic use."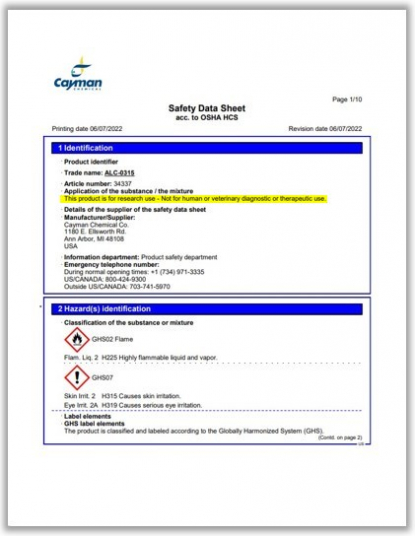 Screenshot of a Cayman Chemical safety data sheet taken February 16, 2023
But Raymond Tellier, a microbiologist at the McGill University Health Center in Canada, said it is important to note the other ingredients listed in the compound.
In addition to ALC-0315, the document shows the Cayman Chemical product is comprised of 95 percent ethanol, a volatile, flammable and toxic compound.
Screenshot of a Cayman Chemical safety data sheet taken February 23, 2023
Tellier said that because lipids may not be water soluble, companies "dissolve them in an organic solvent."
"In the case of Cayman Chemical, they choose ethanol," he said in a February 16 email. "But in the final formulation of the vaccine, there is no ethanol."
In 2021, Cayman Chemical addressed similar misinformation about another compound that academics and scientists use to research health therapies.
"Chemicals under the same name can have differing designations such as grade or formulation that are defined by their manufacturing protocols and intended use," the company said in a press release.
Tellier said that is an important distinction.
"What they say is that their product 'is not for human or veterinary diagnostic or therapeutic use,'" he said. "The reason is simply that Cayman Chemical manufactures reagents for research labs and sells only to research labs; if you want to sell for other uses such as diagnostic or therapeutic uses there are many more regulatory and safety procedures to go through."
Companies that manufacture active pharmaceutical ingredients in the US must adhere to strict federal guidelines to ensure their safety for human and veterinary use. The Paul-Ehrlich-Institut, which regulates vaccines in Germany, has also addressed the difference between laboratory and pharmaceutical ingredients on its website.
All of AFP's reporting on vaccine misinformation is available here.