Only electoral body, not citizens, can print voter cards for ballots in Nigeria
As Nigerians head to the polls on February 25, 2023, social media posts have claimed that registered voters can print their own voting cards if they failed to collect theirs in time from the Independent National Electoral Commission (INEC). This is false: electoral laws permit only the INEC to design, print and issue the cards required for casting ballots in Nigeria.
"If your PVC is not found, Go to business centre and do the needful. You have your VIN and details (sic)," reads a tweet, which urges people to print the cards themselves. PVC refers to a permanent voter's card, which is needed to cast a ballot in Nigeria.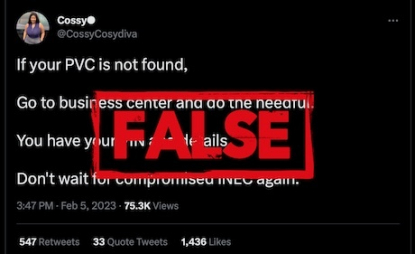 A screenshot of the false tweet, taken on February 7, 2023.
The tweet also accuses Nigeria's electoral body of being "compromised".
The post, shared by a supporter of Labour Party candidate Peter Obi, has been retweeted more than 570 times since it was published on February 5, 2023. A similar false claim was shared by this Twitter account.
Nigeria is preparing to elect a new leader to succeed President Muhammadu Buhari on February 25.
INEC chairman Mahmood Yakubu has said only those who have PVCs are allowed to vote.
A sample of a permanent voter's card supplied by INEC
The card contains biometric information and a set of numbers unique to each voter. "The information on the PVCs are electronically programmed and can only be read /assessed electronically with a card reader," INEC says on its website.
A total of 93,469,008 people are eligible to vote in the elections but not all of them collected their PVCs before the deadline on February 5, 2023.
However, claims that these voters are subsequently entitled to print their own PVCs are false.
Self-printing is a "crime"
INEC spokesman Rotimi Oyekan told AFP Fact Check that the tweet was deceptive.
INEC is the "only organisation empowered by the constitution of the Federal Republic of Nigeria to register voters and print the permanent voter's card (PVC)," he said.
INEC considers "voter misinformation" as a form of rigging.
Nigeria's Electoral Act mandates INEC to design, print and "control the issuance of voters' cards".
It also gives the commission the power to replace damaged, lost, or defaced voter cards if "the owner of such card shall, not less than 90 days before polling day, apply in person to the electoral officer or any other officer duly authorised for that purpose by the Resident Electoral Commissioner, stating the circumstances of the loss, destruction, defacement or damage".
The false tweet was shared less than 30 days before the election. Even if an individual had permission to print their own PVC, it would miss the deadline.
"No person shall issue a replacement permanent voter's card to any voter less than 90 days before polling day," according to section 18 (3).
A violation of this directive can result in a fine of up to 200,000 naira (about $434) and jail for up to two years.