Thai health officials reject false reports kingdom to 'ban Pfizer Covid vaccines'
False articles and social media posts shared thousands of times claim Thailand is scrapping Pfizer-BioNTech Covid-19 vaccines following the collapse of Princess Bajrakitiyabha Mahidol. Thailand's public health ministry and a top health official said there was no change to the kingdom's vaccine policy, as of February 9. Royal doctors said the princess fell ill due to a mycoplasma infection.
"Thailand to BAN Pfizer after Thai Princess Falls into a coma following booster jab," reads the headline of an article published by The European Union Times on February 5.
Thai authorities are "preparing to have the Pfizer contracts declared null and void", the report says, after Princess Bajrakitiyabha Mahidol, the eldest daughter of King Maha Vajiralongkorn, collapsed at a military dog training session in December.
Speculation emerged on social media that the 44-year-old princess fell ill due to a Covid-19 vaccine, with some pushing that claim to support anti-vaccine narratives.
The palace said in a statement on January 7 that royal doctors concluded her condition was due to a mycoplasma infection.
The palace said the princess remained unconscious, and has not given any further updates on her condition, as of February 15.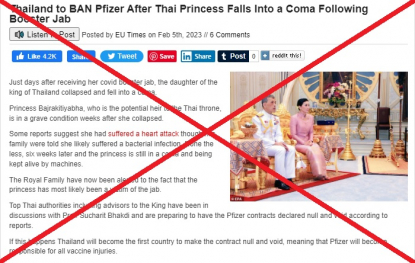 Screenshot of the false article, taken on February 10, 2023
The article features a video of Thai-German microbiologist Sucharit Bhakdi -- who has previously been criticised for sharing unsubstantiated claims about Covid-19 vaccines -- suggesting without evidence that the princess had suffered side effects of a Pfizer-BioNTech Covid-19 jab.
The article circulated widely online, including in a tweet shared more than 10,000 times, with pages in Thai and Chinese sharing similar claims. Meanwhile, British ex-soccer pro and conspiracy theorist David Icke shared a similar article to his 390,000 followers on Twitter.
Screenshot of a tweet sharing the false claim, taken on February 15, 2023
Thailand began its Covid-19 vaccine rollout in February 2021. The kingdom offers Pfizer-BioNTech, AstraZeneca, Sinovac and Sinopharm jabs to the public -- as well as Moderna jabs in private hospitals.
Responding to the social media posts, Thai public health officials said the kingdom had not changed its Covid-19 vaccine policy.
Kajornsak Kaewcharas, deputy director-general of Thailand's Department of Disease Control said on February 9 there were "no changes to Thailand's vaccine policy" as of February 9.
"We will continue to provide vaccines to be available to the public, with the same goal of up to two booster doses," he told AFP.
"There has also been no conversation on changes to the vaccines made available to the public."
On February 3, the Thai Ministry of Public Health said in a statement that rumours about Thailand banning Pfizer-BioNTech Covid vaccines were "fake news".
On February 8, Thailand's Food and Drug Administration announced it would extend the expiration date of some batches of Pfizer-BioNTech Covid-19 vaccines from nine months to 15 months from their manufacture date.
According to health experts at Meedan, which tackles health misinformation, vaccine expiration dates can be extended to help reduce vaccine waste and increase access.
Meedan told AFP on February 14: "Pfizer Covid-19 vaccines remain stable, safe and effective for up to 18 months from the manufacture date."
AFP has debunked a wave of false and misleading claims about vaccines.
February 16, 2023 This article was amended to correct the spelling of Sucharit Bhakdi's name.