Footage shows 2011 Japan tsunami, not Turkey earthquake
Social media users are claiming a video of a shaking room depicts the earthquake that devastated Turkey and Syria on February 6, 2023. This is false; the clip shows a Japanese airport during a 2011 tsunami.
"Prayers for Turkey," says one February 6 tweet sharing the video, which received more than 26,000 views.
The clip shows people crouching for cover as a room shakes, lights flicker and decorations fall off the walls. Similar posts appeared on other platforms in languages including Arabic.
Screenshot from Twitter taken February 8, 2023
The posts come as rescuers seek survivors of the 7.8-magnitude earthquake that leveled buildings in Turkey and neighboring Syria. More than 20,000 people had died as of February 9.
But the footage does not show the recent disaster.
Reverse image searches reveal All-Nippon News Network (ANN), a Japanese television outlet, published a longer version of the video on YouTube in 2020. The title and caption indicate the footage was taken March 11, 2011 at Sendai Airport in Natori, Japan after a tsunami generated by an undersea earthquake.
The full video from ANN, which drew headlines from media outlets such as the Daily Mail, shows water flooding the airport tarmac and sweeping up vehicles.
One indication the video spreading online is not from Turkey: Japanese characters and dialogue are featured in the clip.
An "ANN News" watermark is partially visible in the upper left-hand corner of the footage shared online. And the windows resemble those in photos AFP captured in Sendai Airport weeks after the disaster.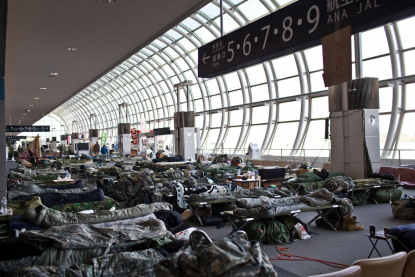 US airmen rest on temporary beds installed in a boarding floor at Sendai Airport, Miyagi prefecture on March 30, 2011 ( AFP / YASUYOSHI CHIBA)
The 2011 tsunami was prompted by a 9.0-magnitude earthquake that struck off the coast of Honshu, the country's largest and most populous island. The storm tossed ships inland, sent waves barrelling over sea walls, triggered a nuclear disaster and left more than 18,500 people dead or missing.
AFP footage from the time shows the moment the tsunami reached Japan, as well as the resulting wreckage at Sendai Airport.
Turkey's Disaster and Emergency Management Presidency tweeted February 6, 2023 that there was no tsunami threat for its Mediterranean coastline as a result of the earthquake and its aftershocks.
AFP has debunked other misrepresented visuals shared after the earthquake in Turkey here, here, here and here.