Pro-Imran Khan accounts share old clip of India's Modi criticising Pakistan in misleading posts
Social media accounts supporting the party of Pakistan's ex-leader Imran Khan have shared footage that they misleadingly claim shows Indian Prime Minister Narendra Modi criticising the government that succeeded him. The footage, which racked up tens of thousands of views, shows Modi speaking in April 2019 when Khan was in power, not after he was ousted two years later.
The video was shared by Pakistani opposition lawmaker Azam Khan Swati to his 160,000 Twitter followers on January 11.
The clip shows Modi boasting that India has "beaten out all of Pakistan's false bravado".
"I've forced them to carry a bowl and go around the world [to beg]," he says in Hindi.
Swati, a member of the Pakistan Tehreek-e-Insaf (PTI) party, claimed the footage showed Modi mocking the shaky alliance that came to power after PTI leader Imran Khan was ousted as prime minister.
He tweeted in Urdu: "To those who facilitated the regime change. Can you hear what India's Modi is saying about Pakistan? If there is no honour in you then at least have some shame?
"People of Pakistan: this is why the only way to save this country is through Imran Khan's trufe freedom."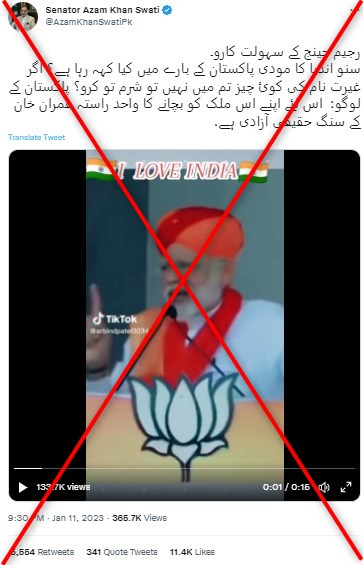 Screenshot of the video shared in a misleading tweet, taken on January 19, 2023
Pakistan has been gripped by political turmoil since Khan was ousted in a no-confidence vote in April.
The former leader insists he was overthrown by a US-led "regime change" conspiracy -- which Washington strongly denies -- and has rallied mass demonstrations pressing the government to call a snap election.
He vowed to fight on with his "last drop of blood" after he was shot in an assassination attempt at a rally in November.
Pro-PTI Facebook pages shared the video of Modi speaking here and here and it also circulated on Twitter here, here and here.
Modi election rally
A reverse image search of keyframes from the clip found it in a longer video posted on YouTube on April 21, 2019 by Indian newspaper The Economic Times.
The clip in the misleading posts corresponds to the 02:09 mark of The Economic Times' video.
Screenshot comparison of the video shared in a misleading post (L) and in The Economic Times' video from 2019 (R)
India's ruling Bharatiya Janata Party (BJP) also shared a video of Modi's full speech on YouTube on the same day, where he can be heard making the same comments at the 34:32 mark.
In the full speech, which Modi gave in Rajasthan while campaigning for reelection in 2019, he boasted that his government had called Pakistan's "nuclear bluff".
At the time, tensions surged between the nuclear-armed rivals after India said it launched air strikes against militants in Pakistan's territory.
"India has stopped getting scared of Pakistan's threats. Every other day they say, 'we have a nuclear button.' What do we have then? Have we kept it for Diwali?" Modi said, referring to a Hindu festival when fireworks are set off.
He added: "Brothers and sisters, we've beaten out all of Pakistan's false bravado. I've forced them to carry a bowl and go around the world [to beg]."
AFP has debunked a wave of misinformation surrounding Imran Khan's ouster, including here, here and here.